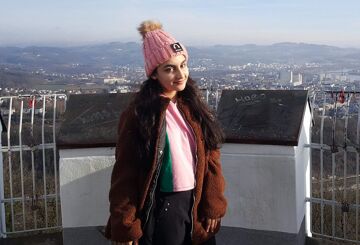 Motto: I want to guide the future international students about studying and the life in the Czech Republic.
Country of origin: United Arab Emirates
Situation: Student (currently studying in Czechia)
Higher education institution: Charles University
Field of study: Medicine
Level of study: Bachelor
What made you decide to study in Czechia?
The ranking of the university and the pocket friendly fees.
Did your studies meet your expectations? How did you find the study programme, instructors, university facilities? Were there any differences from studying in your country?
Yes, my studies are very advanced and up to date. I found about it through my seniors back in my high school and education consultants in my country.
What was the biggest surprise with regard to studying or living in Czechia?
Czech language
What was your most memorable experience or what did you enjoy most as a student in Czechia?
Studying medicine in a top class university and hanging out with friends who are amazing.
How do you think your time in Czechia has helped your studies and/or your career?
I tend to stay focused as I see everybody working hard over here.
Do you have any advice for students thinking about studying in Czechia?
Yes, if they are thinking about studying in the Czech Republic they should know they have to work very hard.