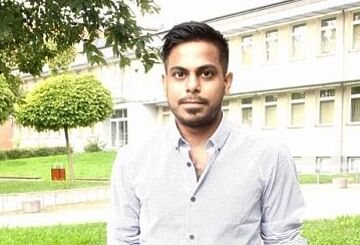 Motto: Not only is the Czech Republic an affordable option for those interested in a study abroad experience, but it also provides high quality, innovative educational degree programs, many of them in English, in a country with a low cost of living in the heart
Country of origin: India
Situation: Alumni (finished studying in the Czech Republic)
Higher education institution: Silesian University in Opava
Field of study: Master in Economics and Business Management
Level of study: Master
What made you decide to study in the Czech Republic?
Being a central node in this European network of cities, routes and ideas, I knew that studying in Czech Republic would expose me to a unique diversity of people and culture and provide me with the ability to travel easily around the area. This lead me to choose to study in Czech Republic.
Did your studies meet your expectations? How did you find the study programme, instructors, university facilities? Were there any differences from studying in your country?
ofcourse, I could meet my studies better than what i expected in Czech Republic. First 6 months of the Czech language is very difficult for Asian people like me. But it was a great experience ever I've made. I've learned a lot from difficulties. Mostly they also have a student buddy programme. The programme made sure that all of us ( the international students) were assigned with a student buddy to help us out in this new experience. It was really helpful in becoming more aware and involved in all the things. I am also very happy and grateful to all the faculty members/teachers, instructors who taught us and shared their immense knowledge with us. It was a very fulfilling experience. As a part of the course I had opted Italy for my internship and I am happy to say that I had the most wonderful times during the internship, with a great learning experience and also being a part of such rich culture. Mostly quality of a higher education system is really different from my country.
What was the biggest surprise with regard to studying or living in the Czech Republic?
The biggest surprise concerning studying here is the quality of the education system, Rich of culture, living costs, and many beautiful places.
What was your most memorable experience or what did you enjoy most as a student in the Czech Republic?
As a student in the Czech Republic, I enjoyed and had fun with my Czech friends. They were friendly, Kindness, and help me to know how to cook in different styles and how to interact with different kinds of people.
How do you think your time in the Czech Republic has helped your studies and/or your career?
My time in the Czech Republic has helped me a lot with my study and life experience. And taught me how to be an independent person in all sense. A new style of studying, Laboratory and I can see it brighter than before. Have many opportunities and do what I want to do.
Do you have any advice for students thinking about studying in the Czech Republic?
The life of studying in the Czech Republic is really awsome. If you want to enjoy of Happiness, please consider in student buddy Programme (For Internarional Students) will be very helpful in becoming more aware and involved in all.