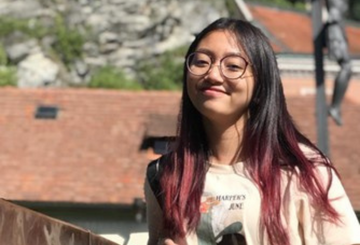 Motto: If it costs you happiness, it is too expensive.
Country of origin: Cambodia
Situation: Student (currently studying in Czechia)
Higher education institution: University of Hradec Králové
Field of study: Financial Management
Level of study: Bachelor
What made you decide to study in Czechia?
It was my goal from high school to study abroad. Later, I heard about Scholarship to study in the Czech Republic, so I contacted seniors who is already in the Czech Republic. Thanks to their recommendation, I was able to make a great decision to come here for my Bachelor.
Did your studies meet your expectations? How did you find the study programme, instructors, university facilities? Were there any differences from studying in your country?
Yes, the studies meet my expectation, except for it is harder than I thought, studying in Czech language. After one year of studying Czech language, I did my own research on universities through their website to find a study programme, instructors, and university facilities. Regarding to the differences, yes, there are some differences especially when it comes to flexibility and supports given to students by the university.
What was the biggest surprise with regard to studying or living in Czechia?
Probably the fact that people are so lively and cheerful no matter how young or old they are.
What was your most memorable experience or what did you enjoy most as a student in Czechia?
What I enjoyed the most are opportunities. Opportunities to travel in Europe. Opportunities to do exchange programs and internships under Erasmus program and with supports from university. Another of my memorable experience was participating in summer school in Taiwan last year. It was great and thanks to it, I made a lot of wonderful friendships and memories.
How do you think your time in Czechia has helped your studies and/or your career?
The knowledge from university plus my self-development after spending years studying here are what that shape me into becoming a better person. I feel more confident with studying in international environment. With the knowledge I have gained, it will be very useful to apply it into my career.
Do you have any advice for students thinking about studying in Czechia?
I highly recommend to come to study in the Czech Republic, especially if it is in English. However, if you want to challenge yourself and are really ready for the battle, you can first spend one or two years focusing on studying only Czech language and after that, apply to study at universities in Czech study programmes. It won't be easy (especially if your native language isn't so familiar with Czech), but you can always work hard or seek for advices from previous students who have the experience.