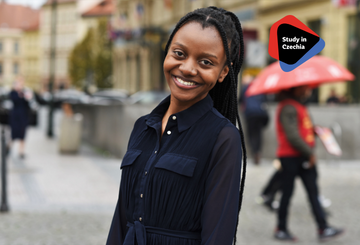 Motto: It starts with you, be the change you wish to see in the world.
Country of origin: Zambia
Situation: Student (currently studying in Czechia)
Higher education institution: University of Hradec Králové
Field of study: Financial Management
Level of study: Bachelor
What made you decide to study in Czechia?
The Czech Republic offered me many rich opportunities, not only career-wise because of the high quality education and varied study programmes to choose from, but it also would allow me to bring to life my passion for new experiences, places and cultures, all in one safe place.
Did your studies meet your expectations? How did you find the study programme, instructors, university facilities? Were there any differences from studying in your country?
I have frequently said I would not trade my experience at the University of Hradec Kralove for anything at all! The supportive staff, the easily-accessible and advanced facilities, exchange opportunities, teaching methods, pretty much everything that has to do with my study experience has exceeded my grandest expectations, it's no wonder my Faculty was voted faculty of year 2019 in the field of Economics, it was a well deserved title!
What was the biggest surprise with regard to studying or living in Czechia?
One of my biggest surprises would have to be that many people seemed to assume that I could speak Czech, so they used it to speak to me even when I couldn't get a single word. A nice surprise I found was that it seems every Czech family has a pet, better called companion, usually a dog.
What was your most memorable experience or what did you enjoy most as a student in Czechia?
Having been here for two years now, I find it hard to choose just one memorable experience, there are so many of those! But narrowing it down, I would say; meeting amazing people, learning a completely new language and experiencing personal growth on many levels; socially, intellectually and emotionally in ways I wouldn't otherwise have.
How do you think your time in Czechia has helped your studies and/or your career?
The wealth of knowledge and skills my studies have given me in the field of Finance and Management has encouraged me to study even further to deepen my knowledge and prepare for my career. Also, I've been able to gain work experience through my part-time teaching job.
Do you have any advice for students thinking about studying in Czechia?
Go for it! It will be an adventurous experience and a healthy challenge, which are key ingredients for a successful career and life overall.