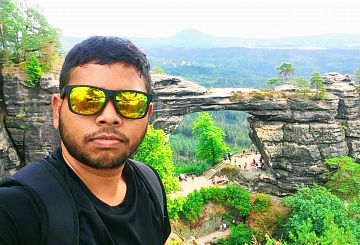 Motto: Contribution in society and make science.
Country of origin: India
Situation: Student (currently studying in the Czech Republic)
Higher education institution: Mendel University in Brno
Field of study: Chemistry Agricultural Chemistry
Level of study: Doctoral
What made you decide to study in the Czech Republic?
First of all the faculty and the most reputed department in the Czech Republic gave me the chance to study here, work with the best chemist and biologist. I am very glad to say that My University did not charge me anything for studying here, not only this they promise me a very good fellowship and salary also which is pretty good. And most important is the support system from the admission section and the study department gave a clear idea about the study system.
Did your studies meet your expectations? How did you find the study programme, instructors, university facilities? Were there any differences from studying in your country?
Yes, I meet almost all the expectations, very good study environment, supportive faculty stuff who helped me a lot, best colleagues in the laboratory, the best supervisor I ever have, Professors are also very interactive, overall everything is supporting my study and research. Overall my laboratory facilities are very modern, we have everything under the same roof what we need to make modern science, continuous chemical supply, very good collaborative laboratories which helps to do rapid good publication. Here Doctoral Degree span is three years whereas in my country we need a minimum of 5 years span needed to complete a doctoral degree, continuous government fellowship and salary which is not continuous in my country, best supervision, everything is fast and reliable, which is not possible in my country. And overall peaceful working environment. I completed my first year of study and I am in the second year of study now and my resolution is my study was very good, I worked hard under best supervisors and teacher, completed all exams in the first year. The most memorable moment was my publication and when I got IGA support from my faculty Agronomic Science.
What was the biggest surprise with regard to studying or living in the Czech Republic?
Study time and working life are very flexible and comfortable in the Czech Republic which gave me very comfort and peace, very good transportation, good people, no racism, good quality food also makes me surprised, and I can buy almost everything what I need in daily life according to my country and culture.
What was your most memorable experience or what did you enjoy most as a student in the Czech Republic?
I am very happy to spend times with Erasmus friends all Erasmus party and summer time. The best interesting thing is I am getting student discount using my International Student Identity Card(ISIC) from almost all transportation companies, and in Czech Railways also. I love hiking and climbing, playing football what I get in here. Well mentioned hiking trails and well maintained historical architecture surprised me a lot. And off course world class Czech beer.
How do you think your time in the Czech Republic has helped your studies and/or your career?
Good weather and environment have an effect on the human mind, here pollution free environment noise-free condition helps me to keep my mind clear and sharp, help me to gain motivation for my research study also. My time was very good because almost everything was going rhythmically and perfectly in school, which drives me more motivated towards my study and novel ideas about my research work. All my past experiences and my future training which I already gained and which I will gain from my study in the Czech Republic will help me a lot in my professional future life. Yes, I am glad to say that my study in the Czech Republic is totally worthy.
Do you have any advice for students thinking about studying in the Czech Republic?
I have one and only advice for students who will come or intending to come to the Czech Republic for pursuing their study here that come, start your study and take the flavour of international student atmosphere and well standard and organised study system. And ready for enjoying the summer holidays.