Eri comes from Ukraine and she is currently attending a preparatory course of Czech language at University of West Bohemia in Plzeň.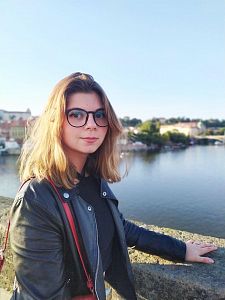 My name is Eri and I have been studying in the Czech Republic for half a year. Studying abroad was my dream, so you can imagine how excited I was when my documents were approved.
My journey here was by train and I felt like I am in Hogwarts express. I have been playing computer games since my childhood and over the past year, I discovered my passion for drawing so working in game development, concept art, in particular, would be a perfect combination of my hobbies. But art and design education system turned out to be completely different from what I have used to in my country. I was completely unprepared. So I will dedicate myself to languages and keep drawing to improve my skills until I will reach my goals.
I am really persistent and even a little stubborn when it comes to things that I want. For now, I've decided to focus on learning the Czech language with my new friends from the university group. There are guys from Russia, China, Mexico, Portugal and Azerbaijan. All of us speak different languages so we are mostly communicating in English and a little Czech.
I am fond of travelling and learning something new about the countries from the people who actually lived there for a while. Files almost like I have been there myself. That's why I want to become an ambassador. I will try to slightly open the door to European culture for the people that can´t visit it. It might help someone who also wants to study abroad as I did.
I was lucky to have the person who already lived here for quite some time and she told me all I wanted to know. And it was one of the reasons to chose the Czech Republic among all other countries.
Maybe I´ll be that person for someone.