Maria came to the Czech Republic from Russia, Chelyabinsk to study at the University of South Bohemia in České Budějovice. She is now in her 3rd year of the Bachelor programme in Agricultural Biotechnology and she is going to pursue her master´s degree at USB as well.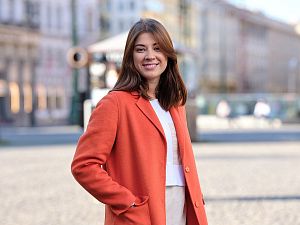 What made you decide to move and study in the Czech Republic? 
I am one of those people who always look for a new experience and as a native Russian speaker, I was into exploring another Slavic language and European country traditions. Of course, the education system and the high level of studies were also important factors, so when I found out that the University of South Bohemia matches all my requirements, I didn´t hesitate. And when you add benefits like the beautiful city of České Budějovice and living you can afford, what else could you wish?   
Which study programme did you choose and why?
I have chosen the Agricultural Biotechnology because, in my opinion, this field of study is one of the most modern and relevant. I also really appreciate how my university focuses on the applied components of the programme.
Did your studies meet your expectations? How did you find the study programme, instructors, university facilities?
Definitely. Not only because Biotechnology is a modern field of study which is constantly developing but USB itself is a great place to study. When I was applying to my programme 3 years ago, I had no idea I would be able to work with things that I didn't even know they exist in modern science. Without doubts, my study keeps exceeding my expectations every day!
USB is a perfect place – interesting programmes, materials available online, friendly people, a fantastic campus with all facilities in one place, great professors and members of international student club always ready to support the students and many other things…
What do you enjoy the most during your studies in the Czech Republic?
The mentality of the people in this country. I am grateful to this country and its people for my great feeling of safety and confidence. The new place always means stress, but I always feel at ease here.
What was the biggest surprise with regard to studying or living in the Czech Republic?
Easy, fast, and cheap travelling through all country and Europe too! Student life should include lots of adventures and joyful moments, studying in the Czech Republic allows me to live my life to the fullest! Even the city never stops surprising me too – it's historical but lively and surrounded by amazing countryside. 
Who would you recommend studying in the Czech Republic?
Everyone who is looking for new opportunities, the best student's life experience and desire to unleash abilities during the study. Remember that good and quality education will allow you to find your dream job and it is an integral part of your future success!
How do you think your time in the Czech Republic has helped your studies and/or your career?
My programme has two obligatory summer practices – after the first and second year of study – that will take a significant part in my CV. I believe this will help me a lot when I will be looking for a job in my profession - I have spent a lot of time in a lab and so my practical skills have expanded extremely and that is very important especially in my specialization.
Do you have any advice for students thinking about studying in the Czech Republic?
It is unbelievable how studying in Czech has changed me in the best way. I have never been such a motivated person, living in this beautiful country inspired me a lot. Don't be scared of exploring new possibilities, work hard, study properly, and one day you will see the fruits of your labour!