Hi, I'm Ahmed and I come from Yemen. I'm a Bachelor degree student at the Faculty of Chemical Technology at University of Pardubice.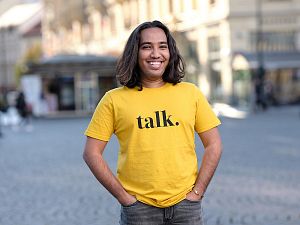 It is hard for a person to talk about himself or way of life since personal experiences could be differently expressed in order to inspire others or at least to show a way of thoughtful lifestyle. So here would be easier combining these themes into one detailed passage to draw a person through his/her words instead of going separate written. Same here for me, I could be defining myself as an opportunities seeker, self-motivated, diverse person making myself a global citizen since I have been participating in so many conferences, workshops and volunteering abroad.
I'm so into education and how it can bring a diversity of everything in order to experience a greater better lifestyle. As a normal student, I start my day with hope and goal to do so I can learn something from my day and be productive. Yet I'm not a total sports guy but love going for a walk, run or sometimes do volunteerism in order to feel better and lessen my depression because seeing the appreciation smile on others' face is something refreshing and soul relieving.
My university takes a big part of my day which I enjoy as long as I'm into the learning process of obtaining a respected degree and good university. During school, I love the practical side of my education because it makes me feel the experience of what a person can be a medical laboratory technical and responsible to provide better solution helping specialized doctors to provide best possible medication recommendation based on precious correct results of the lab and how this major educates me more about life, health and mostly since. Indeed, being an ambassador and showing what I'm learning here will surely inspire other students somewhere in the world to come here and enjoy the amazing nature, weather, culture, education and horizons of opportunities turning us into great leaders.
Regarding being a media ambassador is such an honour and chance to learn and discover more about the positive impact of social media in ourselves as well as it could bring a lot of marketing benefits. Thus, I would love to share my surround of one day base on the downtown of Pardubice, University campus, showing more of the facilities that ease better education and last not least is that giving personal advises through open Q&A session for the public in this way I could cover so many aspects for a wider range of audience.