My name is Joseph John, I'm from India. I have done my bachelor's in Business and Management from India. After completing my bachelor's degree I had been working for  2 different corporate companies for 2 years for the time period. While working I decided to study masters from abroad, as that will give me a transcendent experience and exposure.
So I started doing my homework to find reputable universities around the globe. Then one fine day I got to know about Silesian University, eventually, I started digging up more in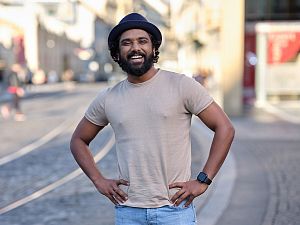 formation about the school and the course. And I found it as reliable and trustworthy. Why I mentioned reliable and trustworthy because being a 3rd country citizen it wasn't that easy for me to find a business school and it's not only about school but also the place where the school resides, it should be safe and welcoming for a 3rd country citizen. Karvina is the best place to live and a very calm city. So on December 5th, 2018, I landed in the Czech republic.
The university faculty were so good at assisting with my needs Silesian University provided me with the relevant program which I did in the bachelor's. Also, our professors are so good at teaching and also friendly in nature. It's been almost one year in the Czech Republic now, honestly speaking I'm having a memorable time here so far, a lot of new friends and experiences.
A few months ago I was in Italy for 3 months with Erasmus Internship program and I had a high time there as well, and also I had been to Poland for an international seminar. Silesian University provides a lot of other opportunities like scholarships. Last semester I have received a merit scholarship based on my course credits. Great isn't it? 
Karvina has given me a surpassing opportunity to work here. Now I'm working as a teacher for a high school and also for a primary school, having a different experience with my Czech students, but still, it depends on the individual how do they take the time and opportunity prolific. I suggest my friends who are looking forward to coming Karvina its absolutely the right decision! go on. 
The right decision at the right time is the most important. 
Good luck.