My journey with the Czech language
Why did you choose the Czech language as your major? The most common question which I get during these six years. Maybe it sounds unexpected when a fresh college student starts learning a language spoken in the country 9 000 km far away from her hometown. Did her family or friends live in the Czech Republic? No. Then had she been there for sightseeing? No. Honestly, only I knew about the country is the location – Central Europe, where I somehow yearned for, and a little bit about Czech children's book and animation culture. Nothing more. When I was a first-year college student and started learning the Czech language in Japan, 18-years-old I was just wondering: It must be fun, learning the language which is totally different from Japanese or English! (And a few days later I've already realized how difficult the language is...)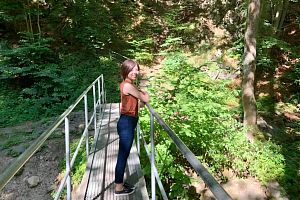 (Doubrava river valley, 2020)
So why does the Czech language keep me studying until now? Here are the answers.
1. For me the bachelor's program in Japan (five years including one-year study stay in CR) was too short to learn enough as the Czech language has a lot of differences from my mother language. I came up with some ideas for my specialization only after I started studying in the master's program.
2. During my study stay in Olomouc, I made a lot of Czech friends and they always cheer me up. Many of them even speak Japanese very well, so I always think that I'll also try to speak Czech better!
3. The most essential reason why I decided to study in a master's program in the Czech Republic is the fascinating Czech culture (especially books, animations and handcrafts) and lifestyle. I like that Czech people love nature and prioritize time with their families. Also, Czech Republic is a safe country and the weather is comfortable. There is no reason not to study here!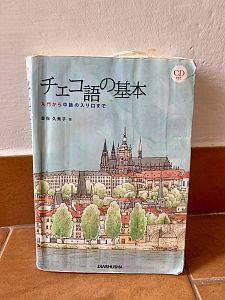 (My Czech textbook, a little worn...)
From this September, my second year at Charles University will begin. Now I have to think about my master's thesis and also about what to do after graduation. Some of my classmates already know their paths for the future, but I still haven't decided. I feel like I want to get a job as soon as possible, but at the same time, I want to keep studying more. Also, I'm not sure if I'll stay here longer or go back to Japan after I graduate college. Anyway, I have always thought that timing is everything. The only thing I can do now is to enjoy the moment, study hard to and take any chance when it comes!