Ahoj from Prague :)
I am Mahnoor, a medical student, presenting you a glimpse of my life over here in Prague as a Medic. You are going to see the fun part of my life and also, of course, the part where I struggle every day to become a great doctor one day. Life's really stressful for me managing everything simultaneously but no one said it's gonna be easy? Plus, Prague is so beautiful that even a short stroll after a tiring day in some 'Botanica' or 'Sady' (as they say in Czech) really uplifts my mood and prepares me well for the following day.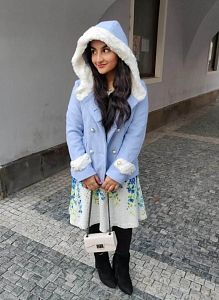 You must be wondering why out of all the countries I chose the Czech republic for my degree. Well, here's the thing. The Czech Republic has very prestigious Medical universities offering quality education at quite an affordable price compared to the universities in other countries. We get a lot of hospitals and practical exposure right from the 2nd year onwards. Although my programme is in English we do study the Czech language as a subject which helps us understand at least the basics if not a lot. Perhaps, with medicine at hand, it's really tough to learn a language too. 

Lastly, this one's for all those aspiring medical students/doctors. You are really gonna love what you do and have fun in your field of you really love this. Yes, it means a lot of hard work too but when you see the smile on the faces of the patients after being cured, it's going to make you proud that you were the reason for someone's happiness. If your intention is pure, you are gonna get all the success in whatever you do. Don't do it for the money, do it for the motive of making the lives of others easier. Bringing joy to someone's life is what I love and I guess that is why I chose medicine as my career.
Mahnoor Khan