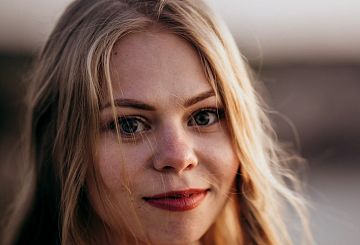 Motto: Eager to learn and broaden my horizons!
Country of origin: Ukraine
Situation: Alumni (finished studying in the Czech Republic)
Higher education institution: Charles University
Field of study: French Philology (Linguistics)
Level of study: Master
What made you decide to study in the Czech Republic?
Advanced study programme; quality of education; recognition of Czech diplomas in Europe and worldwide
Did your studies meet your expectations? How did you find the study programme, instructors, university facilities? Were there any differences from studying in your country?
The study programme was more advanced and rather theoretical than practical, which seemed right for my field (linguistics). Special thanks to the professors of my faculty, I truly admired their expertise. In comparison to Ukrainian higher education, in Czech Republic a great emphasis is placed on theory, self-study and scientific work.
What was the biggest surprise with regard to studying or living in the Czech Republic?
I was surprised by the opportunities that the university offers in terms of exchange programmes, and also flexibility of making up my own curriculum. The latter allowed me to study and work at the same time.
What was your most memorable experience or what did you enjoy most as a student in the Czech Republic?
I would like to bring up a set of benefits that the government provides to students (discounts on different services incl. public transportation, special offers, etc). This is what I appreciated very much on top of the actual studies.
How do you think your time in the Czech Republic has helped your studies and/or your career?
I am grateful for the time that I spent in Czech Republic. My studies here contributed to my academic and professional success. With a recognised diploma of Charles University (Master's in French linguistics), I was able to easily find a job in Prague and continue my career.
Do you have any advice for students thinking about studying in the Czech Republic?
Do not hesitate to contact the university or study programme representatives directly. You will be surpised how responsive and eager they are to help you. Even if you decide to start with Czech language courses first, remember that as a student, you are entitled to attend all the public classes in any university. This is what I benefited from and what gave me the opportunity to meet all my university professors and cover my knowledge gap before the entrance exams. Be prepared that studying in a recognised public university is demanding for both Czech and foreign students but also equally rewarding and beneficial.