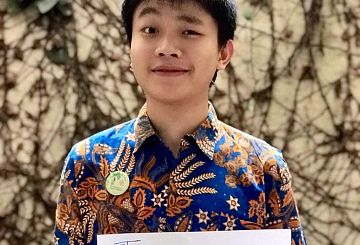 Motto: Life becomes flavourful once you open your mouth to try new and adventurous things!
Country of origin: Indonesia
Situation: Student (currently studying in the Czech Republic)
Higher education institution: Prague University of Economics and Business
Field of study: Bachelor of Business Administration
Level of study: Bachelor
What made you decide to study in the Czech Republic?
~Going to the Czech Republic is definitely out of my comfort zone. But it is worth it! Because I am able to: • Get new study & work experiences -> One step closer towards my goal! • Learn new cultures & languages -> Personally I find Czech is a fascinating language to learn! • Meet people from around the world -> A great international environment! • Enjoy all kinds of sports -> Both types of summer and winter sports! • Travel different kinds of places -> Czech Republic is in the heart of Europe! • Try some unique & tasty food!
Did your studies meet your expectations? How did you find the study programme, instructors, university facilities? Were there any differences from studying in your country?
Yes, the studies met my expectations. I find that the study programme is complete, most of the instructors are friendly and professional, and the university facilities are very diverse. Yes there are a main difference, in my current university there is a great international environment.
What was the biggest surprise with regard to studying or living in the Czech Republic?
I get to make new international friends! -The transportation and air pollution in Prague is very good!
What was your most memorable experience or what did you enjoy most as a student in the Czech Republic?
I experienced my first snow during my trip to Olomouc!
How do you think your time in the Czech Republic has helped your studies and/or your career?
There are lots of opportunities to grow personally and professionally by trying, doing, and experiencing new things here in CZ
Do you have any advice for students thinking about studying in the Czech Republic?
Do it!