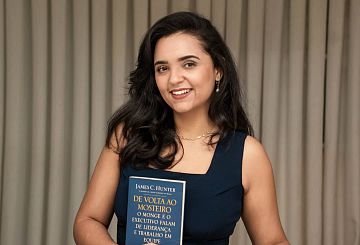 Motto: I studied two terms at University of Hradec Králové. I had an amazing experience and I would love to keep in touch with partners.
Country of origin: Brazil
Situation:
Higher education institution: University of Hradec Králové
Field of study: Business
Level of study: Bachelor
What made you decide to study in Czechia?
I was granted with a scholarship to study there.
Did your studies meet your expectations? How did you find the study programme, instructors, university facilities? Were there any differences from studying in your country?
I truly appreciated all the attention and support I received from people at UHK. I felt very welcomed and all my expectations and needs were met.
What was the biggest surprise with regard to studying or living in Czechia?
I felt some cultural differences, in the way people behave in certain circunstances, but it was all in a positive way.
What was your most memorable experience or what did you enjoy most as a student in Czechia?
Aside from the amazing people I met and wonderful places I had the chance to visit, such as snow mountains, I remember a situation when I got lost in a train station, but a Czech woman, that not even speaks English, tried her best to help me. I will never forget her kindness.
How do you think your time in Czechia has helped your studies and/or your career?
Companies nowadays are requiring people full of life experiences, and definetely, living in a country with such a different culture than mine, practicing a new language and dealing with unexpected situations made me a stronger candidate for job applications.
Do you have any advice for students thinking about studying in Czechia?
My advice is: go and live as much as you can. Surround yourself with people from different parts of the world, but specially with local people, because after all, they are the ones that will to enrich your experience and make you live the Czech culture even deeper.