Tadeja from Slovenia attended the Summer School of Interdisciplinary studies at the University in Hradec Králové.  
You'll see a beautiful country, meet kind people, spend not much money and learn a lot
My name is Tadeja and I come from Slovenia. I study educational Biology and Chemistry at Faculty of Natural Sciences and Mathematics in Maribor. I attend the last, second year of a master's degree. One of the subjects in first year was Didactics Chemistry and the professor was from Czech Republic – this was breaking point for me to came to Czech Republic.
Our professor told us about the first Summer School of Interdisciplinary studies, which was going to be at University in Hradec Kralove. At first I wasn't sure about joining this Summer school because it was going to start in the beginning of June and I still had a few exams to pass. However I was able to make some agreements with professors to finish all my exams before June. Later I was happy about my decision because I was forced to finish first year untill the end of May, so this summer I had 4 months of holidays.
I was travelling to Czech Republic with two of my friends with a train. In Hradec Kralove we were staying at the dorms. I was really surprised about city buses – they are driving almost every half an hour in every direction, so we didn't have any problems getting to the faculty. And they are cheap, too.
For 4 weeks, from Monday to Wednesday, I attended classes at the Faculty of Science. Most of the time I was attending Chemistry oriented lessons but there were some biological and mathematical lessons, too. Different professors spoke to me in English but lectures were in the Czech language. At first I had problems with understanding but in the last week I was able to understand some Czech words. The terminology in Biology classes was similar to Slovenian.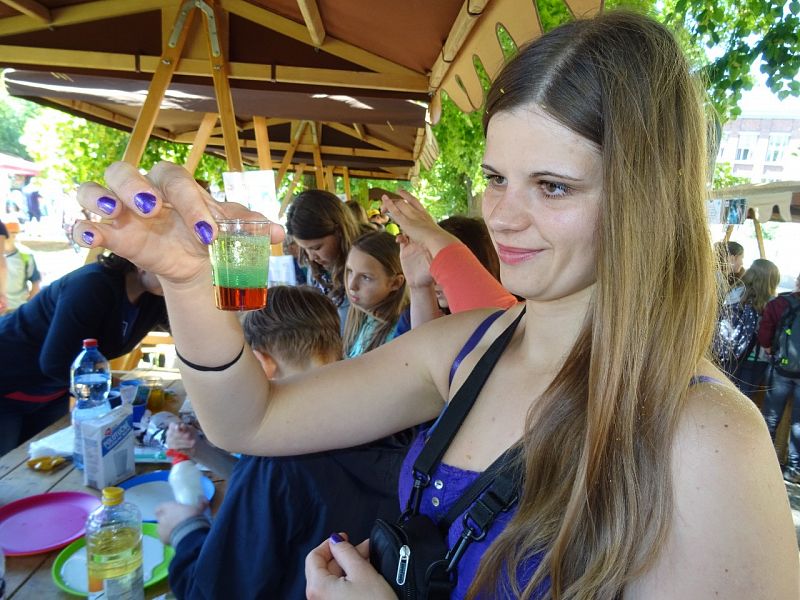 I really wanted to attend laboratory work. I was surprised about how much equipment was there and students were doing some interesting but easy experiments. It was interesting to see and feel that Chemistry or Biology work is the same in different places – for example chromatography was the same there as in Slovenia. The only different thing I noticed in these few days was that students were doing more for themselves (writing journals from lessons and laboratory work and so on). That's good because children are supposed to be prepared for later years at college.
Teachers and coordinators were very kind, all of them spoke English (at least they were trying), they offered their free time to show me a lot of things, books, places, classes, buildings and so on. I made some new friends there and met old ones – one friend was in the Erasmus programme at my faculty in Slovenia before. He was also very kind, he helped me find banks, post office, restaurants and other things.
I think the Czech culture is the same as in Slovenia. I didn't have any problems with people in stores or restaurants. They were all kind and funny. Also the nature in Hradec Kralove is beautiful – it reminds me of the city where I study, but with a little bit more people and green parks. I like small cities because you can get by foot to every corner and you don't need to wait in traffic jams.
In these 4 weeks I spent all my free time on trips and I visited some nice places. For example I was in Kutna Hora, Pilsen and Tech Mania, hospital Kuks, Jaromer, ZOO, Prague, Litomysl and Adersbach. Unfortunatelly there was no time for swimming but maybe next time.
Czech Republic is known for a lot of different kinds of beer, so I also attended a beer festival to see how are these festivals different from Slovenian ones (there are much more different kinds of homemade beer). In my last week of staying in Hradec I also attended a theatre festival. There were a lot of great music bands and shows. The traditional Czech food was also good.
Going to Czech University was one of my greatest decisions. In 4 weeks I met a lot of new friends, teachers, learned some Czech words, saw a lot of nice places and at least I saw how are the classes and laboratories there. And I was practising my Chemistry and Biology terminology in English, too.
I recomend Czech Republic to all students who are willing to go study abroad because they will see a beautiful country, meet kind people, spend few money and learn a lot.
More about University of Hradec Králové:
Website
Degree programmes taught in English