Abdulla from Uzbekistan, studying Informatics and Systems Engineering at the Czech University of Life Sciences in Prague. 
The Czech University of Life Sciences in Prague, one of the largest and oldest universities in the Czech Republic, is an attractive study destination for thousands of international students, including students from the Central Asian Republics. The following is a short interview with Abdulla, a twenty years old student from Tashkent, Uzbekistan.
Q: What is the study programme you are enrolled in at CULS?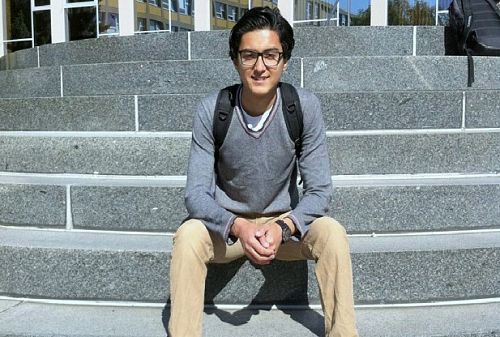 Abdulla: Before I arrived to CULS Prague I studied for a semester at Westminster College in London. At CULS I am studying Informatics and Systems Engineering at the Faculty of Economics and Management. Currently I am in my second year.
Q: How do you like your studies at CULS?
Abdulla: Very much. The programme is taught entirely in English and there are many international students from all around the world. I have made friends with students from USA, Spain, Italy, Russia, and several students from Central Asia, as well as local Czech students. CULS Prague is a very international and cosmopolitan university. Besides local professors, we also have professors who come from other universities in Europe and also from overseas. The lectures and seminars are very interesting.
Q: Before you came to CULS Prague you were at Westminster College in London. What is different at CULS Prague compared to your studies in London?
Abdulla: Well first of all, in case we fail an exam at CULS, we have the possibility to repeat the exam in two subsequent examination sessions during the semester. This was not the case at Westminster College, where we had only one subsequent examination session, usually after the semester. Those who failed had to repeat a year.
Q: How do you like the student facilities and dormitories at CULS?
Abdulla: I live at the dormitories with another student from Uzbekistan. We share a room with an attached bathroom and toilet. It's quite nice. We have full access to the internet, and the rooms are clean and neat. Of course, everything depends on the roommates. If the roommates are messy, then things can be quite difficult. I am lucky that my roommate is very tidy.
Q: How do you like the food at our student canteen?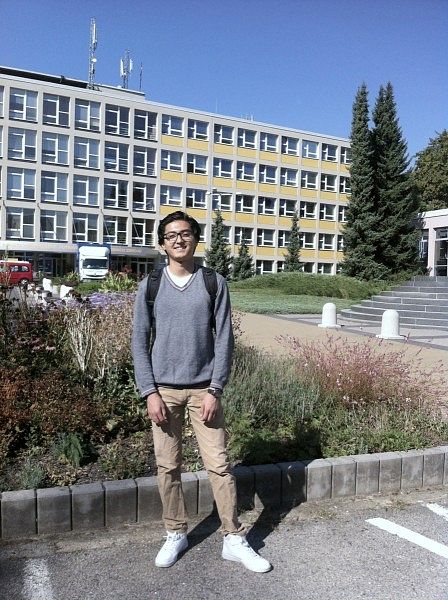 Abdulla: The student canteen is very nice and the meals are cheap. With a student ISIC card we get a 50 % reduction on all the meals. But being from Uzbekistan, my roommate and I prefer to cook our own food. We have a small kitchenette next to our room at the dorms and we can cook our own meals – like at home. I rarely eat out, but sometimes our friends invite us for a dinner in Prague, so we join them. But otherwise we cook for ourselves. You can get all the ingredients at a supermarket nearby, or from oriental food shops downtown Prague.
Q: What makes student life in Prague different from that in London?
Abdulla: Well first of all the costs for local transportation – metro, trams and buses –  are very low. Also the prices for food are very reasonable in Prague. Prague is much smaller then London, so there are less cars, less noise.
Q: You said that you have made friends with many students here. Do you think that the atmosphere at our university is conducive to make friends with other students?
Abdulla: Yes, for sure. CULS has a beautiful campus, and everything is at one spot: dorms, canteen, faculty buildings, gyms. So we can interact quite a lot with other students. In general, people here are quite easy going and friendly.
Q: What are your plans, after you finish your bachelor studies at CULS?
Abdulla: As I am quite fluent in German, I am planning to continue my studies in Germany, at the University of Mannheim, in a master programme in Business Informatics, taught in German.
Q: What are your plans after you finish your studies in the EU. Will you return to your home country, Uzbekistan?
Abdulla: Of course I am planning to return back to my country and apply the knowledge and experience I have gained – either starting my own company or getting a job in my area of specialisation.
Q: The idea behind Erasmus is exactly this: learn by traveling and studying abroad and then return home to apply your gained skills and competencies for the benefit of your countrymen.
Abdulla: Yes, I agree. I also think that when one is young one should definitively study abroad. When we are young we can travel and make new experiences. Later, when one becomes older and wants to have a family, it is not anymore so easy. Therefore, I recommend to all my friends in Uzbekistan: as long as you are young, and can afford it, go and study abroad. Learn from others. It is a life changing experience.
More information about the Czech University of Life Sciences Prague:
Website / Facebook / Twitter / YouTube
Degree programmes taught in English