Ge from China studied Russian at the Charles University in Prague, Faculty of Education, as a government scholarship holder.
As a student, I couldn't ask for more from our splendid teachers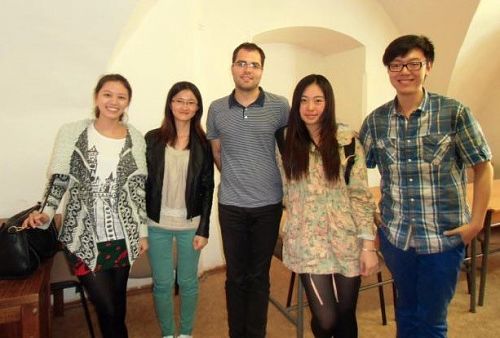 It has been an excellent and precious experience for me. Not only could I receive a different method in the area of Russian Education, but I was also able to get the chance to know one of the most magnificent countries - Czech Republic. Before I came to Prague, I barely knew much about the amazing Czech Republic. After spending time in wonderful Prague, I started getting to know the culture, history and traditions of the Czech Republic. In addition, I figured out that Czech Republic and China have so much connection, and I am not just talking about the kind, warm-hearted people and delicious food.
As a student, I couldn't ask for more from our splendid teachers. It's the teachers from the Russian Department that made me love Russian much deeper. The quality of teachers, with no doubt, is the world level remarkable. They have the unique teaching method to target the difference of each student. In other words, they can help every student despite the differences among them. As a Chinese student, I have to admit that we are much more worse than the local Czech students. But the teachers treated us equally, they were even willing to take more time to explain what we don't understand, which really impressed me. Due to the fact that Czech language and Chinese Language have an obvious difference, for the courses like Phonetics, the teachers also made special teaching plans for us. Those plans actually suited us and really helped us learn a lot of useful knowledge. And we learned a lot thanks to the new materials used during the courses, which were very fresh and interesting to get to know.
When it comes to life in Prague, there is no such city you can find throughout the world. Prague has its own approachable beauty, and to be honest, living in such a wonderful city is much more like a bonus for every international student. The most important is that Prague is a safe city, you don't have to worry for your safety. You can feel the kind and active atmosphere around you.