It would be impossible to share all the beautiful moments I have experienced in this city in a single blog post. Having said that, selecting a few snapshots of my 3-year adventure in the heart of Europe was an exciting yet perplexing task. Whether you are visiting or living in the Czech Republic, this country has a way of awakening your natural photographic instincts. There is no such thing as a bad photo when the place itself is photogenic.
After receiving my acceptance letter, I started making a list of places I would want to visit when I reach Prague. It obviously included all the famous landmarks in the city. Since I would be visiting my University (UCT Prague) first, the place I could not resist checking out was the NTK Library.
Throughout my bachelor's degree, I spent so much time here during my lunch breaks, free periods, and of course printing out my projects/assignments at the last minute! Its modernistic and fun environment made it a stress-free zone to study and relax. I never had to purchase any books for my courses because everything was available at the library. Each book can be loaned for a month along with four renewals- meaning that you could borrow a book for almost one semester!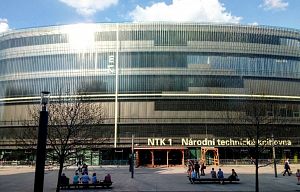 If you haven't been to any of these landmarks below, have you really seen Prague at all? No matter how many times I go to these attractions, it still feels like I'm viewing them for the first time. I have been to Charles Bridge a countless number of times (during its peak hours, daytime, nighttime, etc.), yet each time I go there I am able to take a completely different and unique photograph.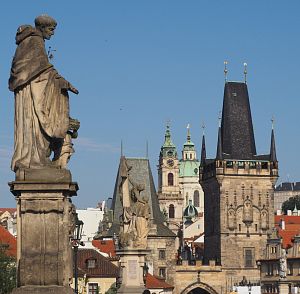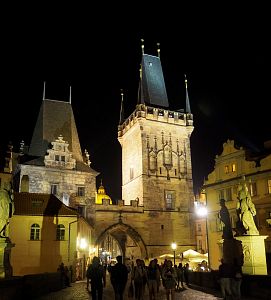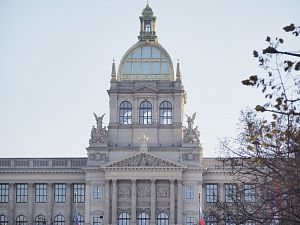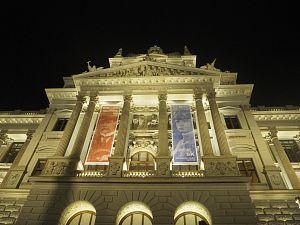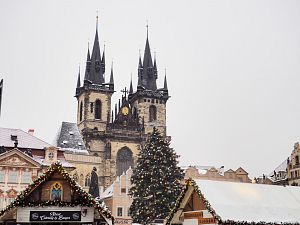 The best part about living here is that you get to witness all these famous landmarks all over again but at different seasons! During Christmas, the city completely transforms into a magical winter wonderland. It is unbelievable how much preparation is done to create such a joyous atmosphere. There is always something to look forward to throughout the year when you are in the Czech Republic.
Are missing your pet back home or do you want to practice your wildlife photography skills? Then, Malostranska is the perfect place for you to find the cutest animals. Along the banks of Vltava River, you will find swans, ducks, and an unusual beaver type of rodent called a nutria.  I spend several hours here just to improve my photography and I sometimes feed them fruits and vegetables. This place immediately brightens up my mood and keeps my mind away from stress.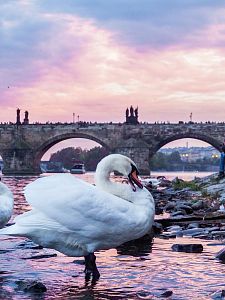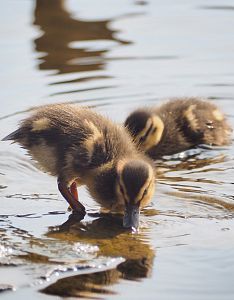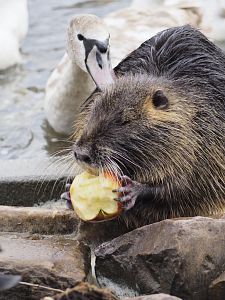 Now onto the academic part of my journey! Apart from the general lectures and seminars, students at UCT Prague must pass several laboratory courses. These courses are designed so that students get hands-on experience in different disciplines of chemistry. These labs helped me discover what I really was interested in and provided me with skills, which I would be using in my research. Working on my thesis was quite an eye-opening experience. I never imagined I would be preparing hybrid nanoparticles that could be used in targeted drug delivery for cancer therapy.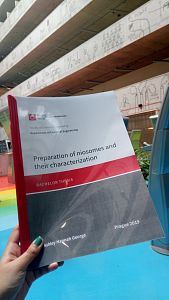 After months of reading lots of articles, experimenting, and writing, holding a physical copy of my thesis was instantly gratifying. The next part was to defend the thesis as well as pass the state exams- this is what scares most students. Do not worry, the entire degree program prepares you very well for this final day. Even though it is a strenuous process, the feeling of accomplishment at the end is well worth it.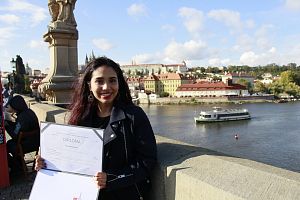 Well, that's a wrap on my 3-year undergraduate journey! I'm currently in the master's program at the University of Chemistry and Technology, but that's another story to tell…
Let's end this post with a mandatory bachelor's graduation photo on everyone's favourite Charles Bridge!?