When I first heard that I would have the opportunity to attend a TEDx workshop organized for the STUDY IN Media Ambassadors, I thought about all the inspiring TED Talks I watched on YouTube over the past decade. I remember being in my early teenage years, always wondering whether I would ever overcome the fear of speaking in front of an audience or attain the confidence of a TED Talk Speaker. Well, now it was finally my chance to embark on a path I've avoided and dreaded all these years and gain invaluable insight into the world of speeches and presentations!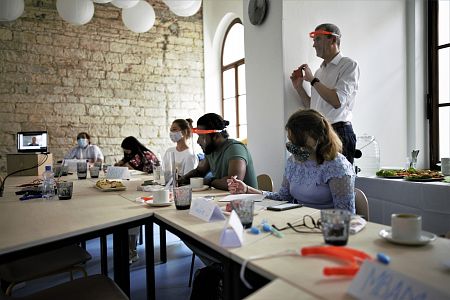 The day began with meeting all the lovely media ambassadors– both new and familiar. Our first official photoshoot session was a day before this workshop, so we all had the chance to introduce ourselves to the new members and catch up with each other's lives. All of us were glammed up and photographed individually and later in a group setting by a professional photographer. I guess in one way this photoshoot helped us boost our confidence and transition gradually into the next day's public speaking seminar.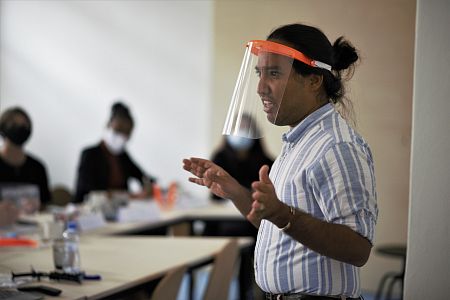 Mr David Svoboda, who is a TEDx Prague mentor and a Canva Ambassador, led the interactive workshop, which consisted of fun activities and a very engaging presentation filled with all tips and tricks for a great talk. He discussed the importance of creating a presentation that is beneficial to the audience rather than just simply boasting about your accomplishments and achievements. There should be a message behind your presentation that the listeners can utilize in their daily life. This is also rewarding to the speaker as they were able to successfully pass on their gift of knowledge by the end of the talk. Mr Svoboda demonstrated this concept by asking us to do some 'sales pitch' related tasks to convince each other to purchase some modern products set in a completely different era. It was hilarious seeing all my peers' persuasion skills and ideas used to successfully complete the tasks and 'sell their product'.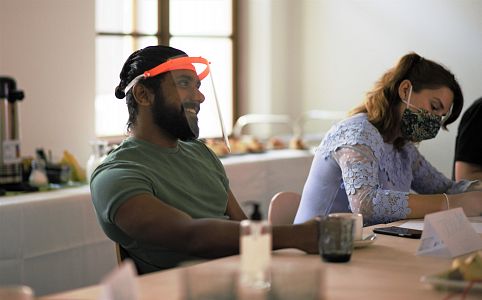 We then continued learning more about the structure of the presentation, keeping in mind that there should only be one primary topic and anything unrelated can be removed or somehow made to connect to the story at the end of the presentation. We continued absorbing all the neat ideas and tips geared towards us. Mr Svoboda also reassured us that stage fright is completely normal, and that most motivational speakers have this innate fear while being in front of an audience. You must live with it as it will not entirely disappear, but certain methods like box breathing could alleviate the tension. It was comforting hearing that I am not alone in this, as I have always felt like my stage fright hindered my ability to present effectively. As we reached the end of the presentation, we learned about design, typography, layout styles, and rehearsal techniques! Even small things like having breaks or black/white screens in between the pauses could have an immense impact on audience retention.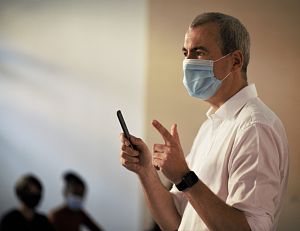 Our last task of the day was to give a five-minute TED Talk on any topic. When I first heard this, I was in a completely nervous state. I tried using the techniques that were suggested to calm down. Once I thought about a topic I was passionate about, I was a bit relaxed. I was impressed by all my colleagues' wonderful presentations; it was such a great experience getting to know all of them a little bit better through their personalized talks. We also had a chance to meet Mr Martin Vasquez, a TEDx Prague public speaking mentor, who gave us his feedback on our speech and gave us very helpful suggestions and tips to improve our storytelling.
No matter how many presentations or speeches we all have done, there's still so much more we can always learn. Thank you so much, Mr Svoboda and Mr Vasquez for sharing your gift with us!