Well, this isn't my first time being in Belgium. I remember spending my Christmas holidays with my family here in Belgium. This was actually 2 years ago. I grew fond of the place, the people, the language, food, and mainly it's diversity. This is why I made decision to have my Erasmus+ traineeship here in Belgium precisely at the Gent University.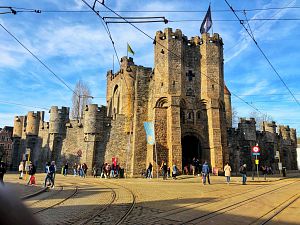 The Gent University is among the oldest and major universities in Belgium. I really appreciate the number of programs in my field of studies. I actually had a number of courses of my interest to select from.  As a student studying Polymer Engineering, masters at the Tomas Bata University in Zlin, I believed this traineeship program could be of great advantage to me in terms of technicalities, skills, better understanding, and finally improvement of my confidence level since I will definitely be interacting with fellow researchers.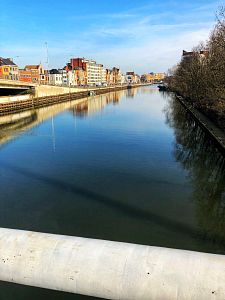 I am working on a project "the Rheology of biopolymers with ions". Also during my stay, I got the chance to be working on 3D printing. Well, these are some of the amazing experiences that I was talking about. Erasmus, most people say is a life of adventures, fun and making of friends.
It's quite unfortunate due to covid, the fun and socializing aspects could not be met but all the same, it's been amazing. Fortunately for me, I do have some relatives living in Belgium - Gent. First, I miss my family and I felt it was time I had a little break and spend some time with my family and not forgetting how much I missed my Ghanaian food.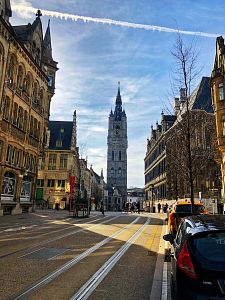 On the very first evening of my arrival in Gent, I tasted one of my favourite Ghanaian dishes (banku and okra stew with crabs, meat, and chicken) after 2 years. Oh my gosh, I can't forget that evening. How I licked my fingers and how my aunty was making funny comments about how I was going to enjoy many Ghanaian dishes in Gent. My next day, my aunty prepared me a traditional Belgian dish which tasted good too. Next, was my time in the city centre. It was really beautiful, a very intriguing fact was about how friendly Belgians were and one way or the other I got to learn some Dutch and French language too.
So far, my Erasmus experience in Belgium has been something I am never ever going to forget. I owe all this to my study coordinator Miroslava Miličková from the faculty of technology (UTB) who really advised me on having an Erasmus traineeship. I am so proud of myself and also stand tall to have this amazing experience. This experience had really thought me the importance of travelling and discovering new things. You may be amazed by what you discover.
In summary, this will not be my last time to travel since I am really interested in discovering new places, people, culture, language, and food.