My name is Benoy Porathukaran Luiz, I'm from India and I have completed Master's in Business Economics and Management at Silesian University, School of Business Administration in Karviná.
What led me, as an international student, to Silesian University and Karviná, was geography. But not only that. Of course, it was the discipline of study and the characteristics of the city and culture. Nestled in the center of Europe, being a central node in this European network of cities, routes, and ideas, I knew that studying in the Czech Republic would expose me to a unique diversity of people and culture and provide me with the ability to travel easily around the area.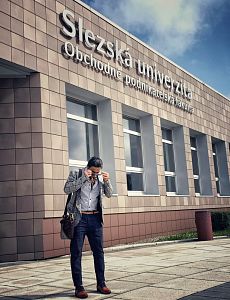 We were the first group of full-time international students at our faculty and I am proud that I was one among them. The support provided to us by every member of the university was overwhelming. The international office worked day in and day out with us to ensure that our life in Karviná is more than exciting. The university is very welcoming to international students and makes sure you have all the information ahead of your stay. They are all very helpful concerning about accommodation and most international students are staying in the same building. 
Our University offered us several scholarships during the period of study and gave us several opportunities to enrich knowledge and exposure. The quality of the classes is good. During my studies, I experienced a different way of teaching – small groups with lots of interaction. The faculty also has a very well thought out student buddy programme. The coordinators made sure that all of us (the international students) were assigned with a student buddy to help us out in this new experience. It was very helpful in becoming more aware and involved in all the things.
During the Covid situation our University and student dorms faculty are taking needed measures to make sure we are safe. They are helping international students and Erasmus students to overcome the situations. The library is closed but the university provided the online library option for the students. During lock-down situations every restaurants, pubs and other social meeting areas were restricted. That made opportunity to exchange our culture between other international students, we celebrate the festivals together, shared our Traditional food. The buddies are there to help each Erasmus and International student. In this situation the buddies conduct online interactions and games for the students.
Overall, it was a great experience, and I am glad I chose the Czech Republic and Silesian University for doing my masters. All the learning and wonderful memories gathered here will stay with me wherever I go...  and happy to be a Student Ambassador.