On that very day I left the shores of Ghana located in the center of the world to the Czech Republic located in the center of Europe, I was surrounded with friends and family. Their faces were beaming smiles and joy as one of theirs decided to follow his dreams. I knew the weather of the Czech Republic was cold but I had no idea the intensity of coldness was that high. As funny as it might seem, all that I was wearing was a T-shirt, a pullover and a cap considering how warm it was in my home country.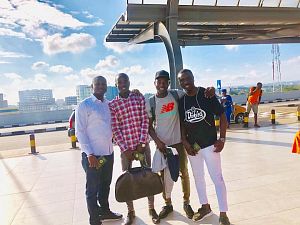 I finally set off, made a transit in Dubai and finally arrived at my destination, Prague. As I got out of the Prague airport, I realized the terrible mistake I had made and how silly I was for not getting a winter jacket. I tried my best to go through this ''unusual'' weather and set off to arrive in Zlin. Fortunately for me, I was picked up from the airport by a friend who helped me with my luggage to Zlin. During my period in Zlin, in the beginning, it was very difficult for me. The language barrier, the people and the food. Czechs are mostly reserved and sometimes feel very shy to communicate with a foreigner supposing you find yourself in a smaller city. By then I haven't made friends so it was very difficult for me to blend with the Czech environment. As time went by, I started to appreciate the language, food, history and made some amazing friends which I finally understood their reason for being so reserved. Their reserved nature is just a way of protecting themselves and it is completely understandable. Well for a first-timer, it came to me as a culture shock since in my home country, we are mostly communicative.
During my stay in Zlin, I frequently went on a hike to appreciate the green nature of Zlin. Also, I visit the gym and sports centre as this is something I love to do. I started going to the pubs to meet Czech people and trust me, that's one of the places to easily make friends! Czechs do not joke with their beer and mostly communicate with you because at that time they gain some kind of confidence in themselves. Surprisingly, they sometimes speak English and you might be surprised. They are super friendly and most especially, they are interested in getting to know more about you. 
Studies were going on well as planned and the teachers were very supportive. Students who came on Erasmus also brought a little of their culture and history so I ended up learning more and relating more with people from different countries, culture, language, and food. I can boldly say I have made friends from most of the European countries and still keep in touch with them. Most of them have been asking me to visit which I intended to do in a surprising way. I also had the opportunity to go on Erasmus in Belgium and I did enjoy every bit of it through the help of my study coordinator who assisted me through the process. I must say, it was so easy and not even stressful. I will definitely recommend going on Erasmus to everyone reading this because the kind of closure you have is something worth having. Finally, I just completed my studies and I feel so proud of myself for the journey made so far.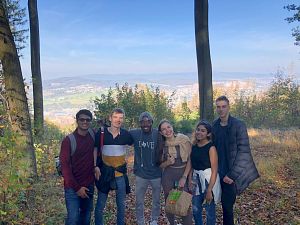 All I can say is, don't let anything hold you back. Take chances, travel, explore, make friends, have new experiences as these would make you know the kind of person you are. Making the decision to study here in the Czech Republic is one of the best decision I have ever made in my life. Well, my journey is not over yet since I have so much to experience. Well, just expect more to come from me. Until we meet again, stay safe, stay healthy and never give up on your dreams. Always know that there is a light at the end of the tunnel.