Hello folks, let's hope the spring pandemic's being kind. This is my perspective on studying masters at the photography department of FAMU, as a graduate from the class of 2020. The infrastructure and focus on analog process as a foundation for theoretical and practical work is unparalleled across any art/ film schools. The darkrooms, studios, workshops, computer & scanning rooms were available to use during pandemic, by allowing only one person in a room and maintaining hygiene precautions. Usually the week will have 2 or 3 days of lectures from morning to evening and one might have to go from one building to another at least once (10 mins tram ride away). The studio sessions including technical aspects of operating large format cameras are the ones which require a lot of patience on both professor's and student's part. Most of the other lectures have shifted in smoothly with the zoom interfaces.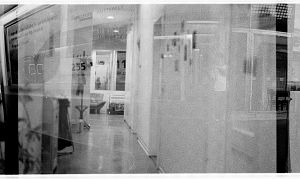 A serendipitous double exposure with my roommate's discarded film within the department corridor.
During my study I was at the university dorm which was centrally located to the 3 main buildings I would have some lecture or workshop at. The facility itself is quite robust with capacity of around 300 beds. It was a great way to immerse myself in the nuances of Czech dark humor and advanced independent art scene. Practice rooms allow one to draw inspiration from random spurts of musical compositions floating in the air. Kitchen is basic and the community of students is nice enough to share utensils. There are also subsidized meals at café HAMU, DAMU and FAMU for those who don't prefer cooking. There are tie-up with a gym and swimming pool for people who want to sign up for extra credits. The library is also equipped with an amazing film section that stores mainstream and avant-garde genres since the beginning of time itself. Yes, it includes VHS recordings, 8mm projections and a repository of student films from various local and international film festivals. My word limit is almost at end and since photographs have taken layers of meaning after I started studying here, I will leave you with some of my own photographs of the university,.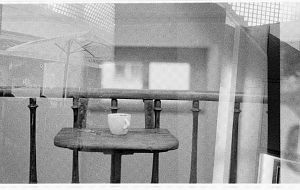 The backdoor inspiration via "coffee"