It's a weekend, you're either out alone or with your friends, & you're wondering what more is there to Prague than the known tourist or student spots. Old Town Square & the Astronomical Clock, Charles Bridge, Petrin Lookout Tower, Náplavka, Wenceslas Square, the list goes on. While these places are a must-see in Prague for a reason, as they display the beautiful gothic architecture, pose as opportunities to meet both locals & tourists, & have great restaurants & gift shops, the city has more to offer. One thing is for sure, Prague is one of the safest cities, with affordable activities, stellar views, & excellent transportation to get from one place to the other. I have taken it upon myself to recommend some locations & activities that are low-key & others that might be popular but deserve (from personal experience) to be re-emphasized.
Let's start with parks. 
Letná is a large skater & dog park that hosts unique events, such as fashion bazaars & art exhibitions. It is expansive, perfect for a picnic, playing frisbee or badminton, or chilling between studies! There are also eating pavilions &, most importantly, an unmatched view of the city along the skate arena, which adds a youth grunge culture.
The second park is slightly further, but you might as well check it out! Ladronka is a sports-centred park, as you can rollerblade or stroll around the entire area (8 km) but also enjoy recreational machines along the sidewalk, a volleyball field, & a small bistro. Bikes & other vehicles can also be rented!
Now for some hidden gems!
Known as "New Karlín," this area of Prague has transformed from an industrial neighbourhood to an artsy part of the city with indie galleries, multicultural eateries, & abandoned factories that have been repurposed. For getting the best photos & exciting experiences, Kasárna Karlín is a must-go. It is a cultural centre with rugged artefacts, a few swings, & a swimming pool-themes Espresso bar called "Kavárna Bazén."
The second hidden gem is not that hidden but underrated. Vyšehrad is a fortified medieval church & fortress with a beautiful garden, gallery, & cemetery surrounding it. If you are looking for a place to watch the sunset, this is the one. Walking around will cause you to stumble across a small grape wine yard near the church & at the corner of the premises. That is the sweet spot. You will have a view of "old" & "new" Prague, the Vltava River, & of course, the Prague Castle.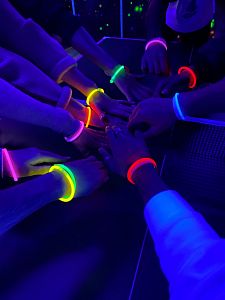 Finally, some fun activities!
Starting with a black light mini golf spot in Narodni Trida with a Laser Tag Arena upstairs called "Prague Golf & Games," this is great for large-group outings (they also sell neon face paint & drinks). "Harley Quinn" is one of the best spots for ping-pong & pool. For bowling, Andel & Namesti Republiky have the best spaces (but you need to reserve within the day's notice!). The spots are called "Bowling Smíchov & Garage Billiard - Praha 5" & "Bowling Celnice," respectively.
We went to K* STAR Karaoke in IP Pavlova for my December birthday. It was a fantastic experience, from the interior to the varied room sizes, to the bar, & the song list & easy-to-use technology. A surprising place I put on my list was Hamley's! Not only is it huge from the inside & has an interactive carousel & slide from floors 2 to 1, but there is also an arcade on the highest floor for anyone to play!
Regarding outdoor activities, karting mixes fun & competition. You get to take some pictures with your headgear too! My friends & I usually go to KartPlanet, but others have more intricate tracks. Ice skating is a blast from December to January; I'd recommend the rink at the highest floor of Galerie Harfa, "Letna Ice Rink," & "River Rink Karlin."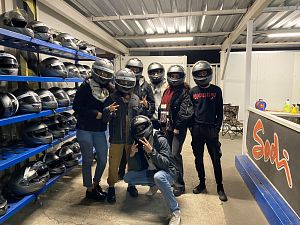 That's all from me for now. I truly believe Prague doesn't get old. There is always some new place to discover, & who knows, it might become part of your friend group's tradition or weekend routine!