There are no more kings and queens in Czechia, but remnants of its royal past still linger through its castles. One can only imagine the rich history and sense of grandeur that once occurred within its walls. Castles are also architectural products of their time, and it is interesting to see the structure and design styles used in creating them.
 I love castles, and I often anticipate trips to visit one. They are superb and historically rich, are great spots for your social media feed, and hold special events for the public a few times a year. I recommend five castles I have frequented several times this past year. These castles are just a short trip for students in Brno and perfect for a weekend or a day trip!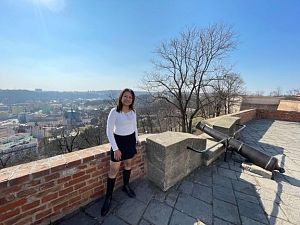 Spilberk Castle
Spilberk Castle is located right in the heart of Brno on top of a hill overlooking the city. I have spent most of my free time here as I can walk to Spilberk Castle from my university. As such, you will find many students relaxing on the benches of the castle grounds. Initially constructed as a fort in the 13th century, it has since operated as a jail and military barracks over the centuries, among other uses. Today, the castle is also home to a museum and cultural centre where the public may experience its extensive past.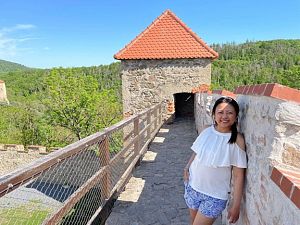 Veveri Castle
Located along Brno Reservoir, Veveri Castle is also accessible by boat ride during spring and summer. Entrance to the self-guided tour of the castle courtyard is not free, but it is definitely worth it as it is one of the biggest castles in Brno, if not the biggest castle. Otherwise, you can see Veveri Castle up close when you ride a boat along the reservoir or hike along Brno reservoir.
Slavkov Castle
Slavkov Castle, or Austerlitz, is famous for its connection to the Battle of Austerlitz, one of Napoleon Bonaparte's most significant victories. In Slavkov u Brna, Napoleon's French army faced off against an alliance of Russian and Austrian soldiers in the bloody Battle of Austerlitz. Every year, Slavkov Castle holds an event where they reenact Napoleon's Battle of Austerlitz, attended by history buffs, students, and tourists. If you are a fan of vintage cars, the Veteran Fest is also annually held here, where vintage car enthusiasts and owners from all over Czechia gather to show their vehicles.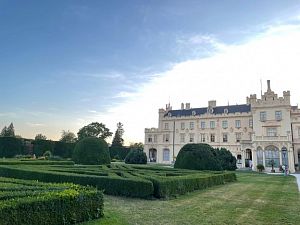 Lednice Castle
If I only have to recommend one castle from this list, it would definitely have to be Lednice castle. Lednice castle is a UNESCO heritage site, and I love it for its exquisite and well-kept gardens. The castle grounds are vast enough that it has multiple hedge mazes and a lake where you can ride a boat during the summer. It also has a Minarett inspired by Turkish motifs, an artificial Baroque cave, a luscious greenhouse, and a mini castle which once served as a hunting lodge.
Valtice Castle
Valtice Castle is also located in the Lednice-Valtice Cultural landscape, classified as a UNESCO world heritage site. Although smaller in size compared to Lednice, I would say that it is still worth visiting. The place was once the residence of the royal family of Liechtenstein. From its hunting grounds, you can see the Colonnade on Reistna hill, which is about 2 km from the castle, and it was built as a monument to honour the late father and brothers of Jan I of Liechtenstein.