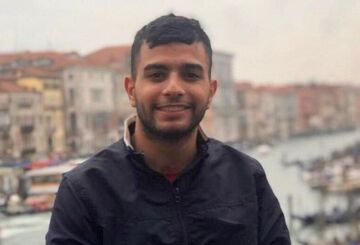 Motto: Start where you are. Use what you have. Do what you can.
Country of origin: Palestine, State of
Situation: Student (currently studying in Czechia)
Higher education institution: Brno University of Technology
Field of study: Fundamentals of mechanical engineering
Level of study: Bachelor
What made you decide to study in Czechia?
I'm inspired with machine learning and technical studies, so during my search on internet I found "Brno University of Technology" offering this chance in wide variety of technical fields and it's for free in Czech language. "BUT" is the silicon valley in Czech Republic and this is the best reason for me to study here.
Did your studies meet your expectations? How did you find the study programme, instructors, university facilities? Were there any differences from studying in your country?
Studying in Brno met my expectations, I found all information I needed online at the offical university website. I found many differences starting from studying in foreign language and living in dormitory with international Erasmus students, ECTS evaluation system was also unique experience.
What was the biggest surprise with regard to studying or living in Czechia?
Czech Republic is suitable for students to live, the salaries and discounts for students were higher than my expectations starting from transportation salaries affordable to travel from one city to another with just 2-3 Euros as well as shopping markets, malls, cinemas etc..
What was your most memorable experience or what did you enjoy most as a student in Czechia?
I lived in small place called Poděbrady in my first year and I learned Czech language there, it was fantastic time to travel around the Czech Republic and discover new places.
How do you think your time in Czechia has helped your studies and/or your career?
Going through technical factories and working as a student with part time job helped me to set up a new experience in my field of study along side with the ability to do an internship which is highly affordable for many students in the Czech Republic.
Do you have any advice for students thinking about studying in Czechia?
YES ! , Challenge yourself and take off your fears about coming to the Czech Republic because you don't need to miss such a chance to be in a country suitable for students life with it's high level of education, accomodation and facilities. Be brave and apply for some Czech language course or check some affordable study courses available in English!