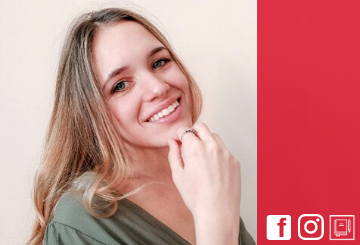 Motto: Passionate about culinary, travel and cultures girl
Country of origin: Argentina
Situation: Student (currently studying in the Czech Republic)
Higher education institution: Charles University
Field of study: Czech Language
Level of study: Summer Compatriots programme
What made you decide to study in the Czech Republic?
In 2015 I'm starting to study the Czech language, our teacher told us the summer program for compatriots, so I decided to apply for that. I was in Dobruska in 2017, was my first time in Europe and I come back fascinated. So I decide to get better my Czech to come again and studying the language for more time in Czech Republic.
Did your studies meet your expectations? How did you find the study programme, instructors, university facilities? Were there any differences from studying in your country?
That time in Dobruska, yes. Now I will arrive there on 20th September, but I'm sure they will.
What was the biggest surprise with regard to studying or living in the Czech Republic?
I remember I was in a principiant/Spanish group in the summer program and was a surprise for me how fast we learning the czech language, We went to a restaurants/ coffee/ bar within translator after maybe 5 days.
What was your most memorable experience or what did you enjoy most as a student in the Czech Republic?
I enjoyed the dance competitions we have with all the students from compatriots program, was so so funny
How do you think your time in the Czech Republic has helped your studies and/or your career?
Yes, I think that, and help me a lot with the language.
Do you have any advice for students thinking about studying in the Czech Republic?
Just dare to travel and study there, is so far away from home, but I think the people there make feel you like home.