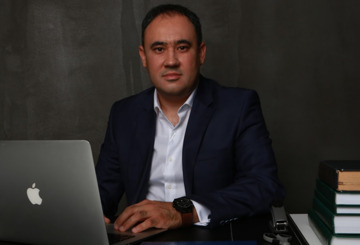 Motto: Scientia potentia est
Country of origin: Uzbekistan
Situation: Alumni (finished studying in the Czech Republic)
Higher education institution: Czech Technical University in Prague
Field of study: Civil engineering
Level of study: Master
What made you decide to study in the Czech Republic?
In 2001 I was granted a Czech state scholarship thanks to my high academic records and my great wish to study in Europe.
Did your studies meet your expectations? How did you find the study programme, instructors, university facilities? Were there any differences from studying in your country?
As a part of scholarship I benefited of 1-year preparatory and Czech language courses in UJOP Podebrady. It helped me a lot to be successfully admitted to CTU in Prague. For me it was challenging time to adapt to completely different environment both in social and academic life. I realised so many discrepancies in organisation of study in Uzbek and Czech universities. In Uzbekistan I just followed the adopted academic schedule. Here in Prague you should make your own decision and choices. Initially the most difficult for me was self-control of your "freedom", i.e. responsibility for your study as nobody controlled you, in particular attendance of lectures and organisation of study programme. The academic department of CTU helped a lot at that time patiently explaining and clarifying all my questions on study plan and its features. Among other Czech universities 19 years ago CTU in Prague had the best facilities for students: canteens and libraries, comfortable dormitories (I had experience of stay in 3 different dormitories during 6 years of study). The most impressive part of study for me was an opportunity to choose interesting elective courses (humanities and social sciences) in addition to obligatory courses directly linked to my major Engineering. During my studies similar to other students I faced difficulties with two academic subjects and had some misunderstanding with two professors, who were quite strict and hard-driving to students. It is worth to tell that few years after university graduation, having obtained work experience I realised that those two professors were the best ones. I fully satisfied with my study in CTU and had a good memory of student life!
What was the biggest surprise with regard to studying or living in the Czech Republic?
In my opinion, the biggest surprise for me personally was completely different environment in academic and social life. I have never had an experience of living abroad and being on my own. Every day I discovered something new for me, it was really time of "opening mind".
What was your most memorable experience or what did you enjoy most as a student in the Czech Republic?
Dormitory life was the most memorable experience for me. I had only Czech roommates in dormitories and it helped me a lot to improve my Czech and to discover the Czech culture and holidays. By the way my "dormitory" friends are still my best friends and we are keeping close contacts.
How do you think your time in the Czech Republic has helped your studies and/or your career?
I have to declare proudly that all my achievements both in professional and social life have been reached thanks to my Alma Mater.
Do you have any advice for students thinking about studying in the Czech Republic?
Come, study, enjoy, live and feel the Czech Republic! You will never regret! You will win!