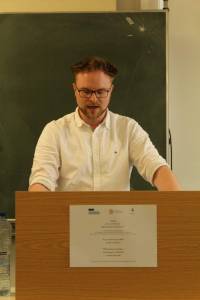 Marius Armin Sitsch studied Philosophy at the University of Potsdam where he earned a Bachelor's degree. His work Liebe und Ein-samkeit was even published last year by Traugott Bautz. In June 2020, his master's thesis defended at the Faculty of Humanities at Charles University, got the highest grade and was accepted for publication at the prestigious Königshausen und Neumann publishing house. In addition to monographs and rich editorial work, Marius is also the author of five professional articles.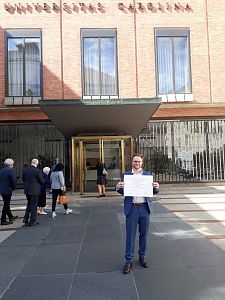 Thanks to his exceptional scientific achievements, at a very young age (27 years!), he is ranked among the greatest talents of the Faculty of Humanities at Charles University. For example, he became the editor-in-chief of the international magazine Interpretationes: Studia Philosophica Europeanea, which is published by the Faculty of Humanities (Charles University) in the publishing house Karolinum. In 2017, he was admitted to the programme: the Deutsche und französische Philosophiena at the Faculty of Humanities of the Charles University, and a year later to the programme of the Erasmus Master Mundus Deutsche und französische Philosophie in Europa (EuroPhilosophie).
From the first moments of his studies in Prague, he was actively involved in the pedagogical and research activities in the field of German and French Philosophy. At the Faculty of Humanities of the Charles University he led seminars in German and English, he also organized the conference Gleichzeitige Nähe und Ferne: Jean-Paul Sartre und Emmanuel Lévinas im Dialog, and he was last admitted to the doctoral program in German and French Philosophy. He will continue to lead courses for students of Europhilosophie at Charles University.
While the field of phenomenology is somewhat stagnant in his country of origin, we rank the Czech Republic, besides France and Belgium, among the countries where that field remains a living way of thought - especially thanks to young professionals, like Marius. His work significantly strengthens the good reputation of Charles University in the international community of philosophical researchers.
Are you interested in study options at the Faculty of Humanities at Charles University? Learn more on their website.