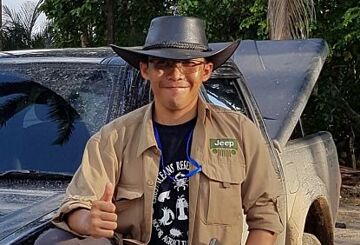 Motto: Even small fish are fish.
Country of origin: Indonesia
Situation: Student (currently studying in the Czech Republic)
Higher education institution: Czech University of Life Sciences Prague
Field of study: Animal Science
Level of study: Doctoral
What made you decide to study in the Czech Republic?
Czech education and research have a long history dating back to the 14th century. The high quality and tradition of the Czech education and research is widely recognized, especially when it comes to studying Science, Engineering or Medicine in the Czech Republic. Another reason for this is that the Czech institutions are getting more and more internationalized, investing on partnerships and cooperation activities with European Union countries and others.
Did your studies meet your expectations? How did you find the study programme, instructors, university facilities? Were there any differences from studying in your country?
My studies satisfy my expectations. I found the study programme and university from a Professor in the Czech Republic, then he is now my supervisor.
What was the biggest surprise with regard to studying or living in the Czech Republic?
1. The great teaching style and assessment in Czech universities. 2. Living in the Czech Republic is more affordable than in other European countries. 3. Czechs are known as inquiring minds with Nobel prize-winners and numerous discoveries and inventions to list.
What was your most memorable experience or what did you enjoy most as a student in the Czech Republic?
1. According to the Global Peace Index, the Czech Republic is among the top 10 safest countries in the world. Travelling and living in the Czech Republic is generally safe for all age groups regardless of gender, nationality or religion. 2. Have the chance to visit many beautiful and entertaining places including UNESCO Heritage sites, one of the highest concentration in a single European country. 3. The Czech Republic offers easy and comfortable travel options.
How do you think your time in the Czech Republic has helped your studies and/or your career?
Education in the Czech Republic will gives me a chance to visit key players in the industrial, development and high-tech niche sectors.
Do you have any advice for students thinking about studying in the Czech Republic?
The Czech Republic is a welcoming, friendly place for international students. The fairy tale atmosphere provided by medieval architecture will make sure you'll have the most amazing study experience in the Czech Republic.