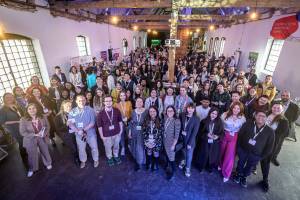 The biggest event Study in Czechia and Czechia Alumni organized this year is over! THE Student and Alumni Meetup On 27th April 2023 took place in the area of the former freight station Praha-Smíchov, now a multifunctional community space called  Radlická kulturní sportovna. Around 220 people from 75 different countries came to network, find new friends, meet old ones, listen to alumni stories and enjoy live music and of course, Czech drinks and food.
The event started at 5 p.m., and soon there was a
 a lot of international students and alumni gathering in small groups together. The director of  The Czech National Agency for International Education and Research, Michal Uhl, opened the event, followed by a short introduction about  the Study in Czechia initiative  and  Czechia Alumni Programme by the head of our department Aneta Sargeant. Both have experience from studying abroad, so their talks had a common ground with the participants.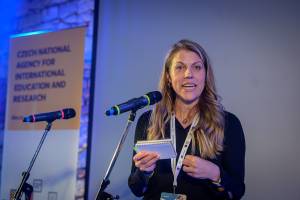 The event moderator, a YouTuber Jen from  Dream Prague  shared her story as an expat woman living in Prague for many years. She also graduated from Charles University, so she had many topics in common with the participants as well. A short speech by Maria L. Gallo, an expert in Alumni relations, followed and prepared the guest for the next activity - networking bingo. 
When the bingo game (introvert-friendly
networking activity) started, it engaged almost everyone in networking! The crowd began to move as everyone tried to find the perfect match for their bingo. Loud and joyful conversations took over the place for at least an hour. The purpose of this activity is to create a safe space for getting to know new people and making connections on suggested topics in each bracket of the bingo. When all brackets were full, the attendees could enter a prize competition to win an assortment of gifts donated by DZS, Czechia Alumni, Czech Centres, Ostrava Expat Centre and The Alumni Way.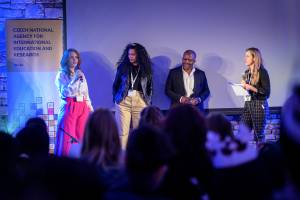 The next stop in the programme was a moderated discussion by Jen with international alumni (from left: Alexia, Stacy, Chipo). It was a truly inspirational talk! The alumni spoke not only about their experience with living and studying in Czechia and searching for a job or internship but also gave a few tips on their favourite places to visit or what to do in their free time.
You can expect a separate blog post on what the alumni 
shared with us.  First of them will be Stacy Hammond, who gained PhD from the  Czech University of Life Sciences in Prague in the field of Tropical Agrobiology and Bioresource Management. She is currently a Postdoctoral researcher at the Department of Plant Physiology and Cryobiology in Prague.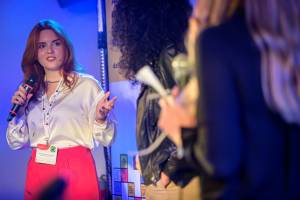 The second one will be about Alexia, an alumna of Bc. Political Science and a current student of MA in Central European Studies at the University of Hradec Králové, who works as a Director of the Customer Department of a global IT company and a Partnership Manager at Erasmus Student Network Hradec Králové and a president of Rotaract Club Hradec Králové. 
And the third will be with Chipo Malambo, an alumnus of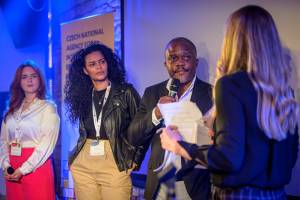 the University of West Bohemia in Pilsen (Bc. Occupational Therapist) and Charles University in Prague (MS, Adapted Physical Education). Chipo is Currently working as a Developmental Kinesiologist, is a PhD-candidate in kinanthropology, and conducts research on motor and cognitive development in preschool children.
Games without winners are like weeks without Sundays.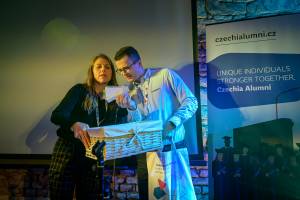 And so we drew three winners of the bingo game. In the meantime, the participants had a chance to talk to university alumni programmes' and career centres' representatives, and learn more about the activities of Czech Centres,  Expat Centre Ostrava  and  Prague, and  ESN Czech Republic.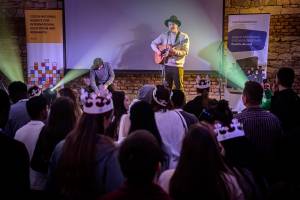 Live music by  Jakub Ondra, the Czech singer-songwriter who has been travelling the world, busking in Shanghai, Bangkok, Saigon, the United States and many cities across Europe  followed and closed the event around 10 p.m. It was a fantastic time for us all, and we hope to see you all again next year! This year we have several more meetups: in  the USA  and France.
To read more about past events, visit our blog. A full photo gallery by our photographer, Petr Zewlak (IG @Zewlakk_foto) from the event is available here.