Why did the American Air Force officer go to Czechia? How did he see Brno 20 years ago? And what did he learn from his stay?
Lieutenant General Dagvin Anderson is a member of the United States Air Force. From 2000 to 2002 he studied at Masaryk University in Brno. We met Dagvin at the Alumni Meetup at the Czech Embassy in Washington, D.C., which we organized on the occasion of the Czech presentation at the NAFSA fair and conference. We talked about what brought him to Czechia, how he remembers it and how his studies in Brno influenced him.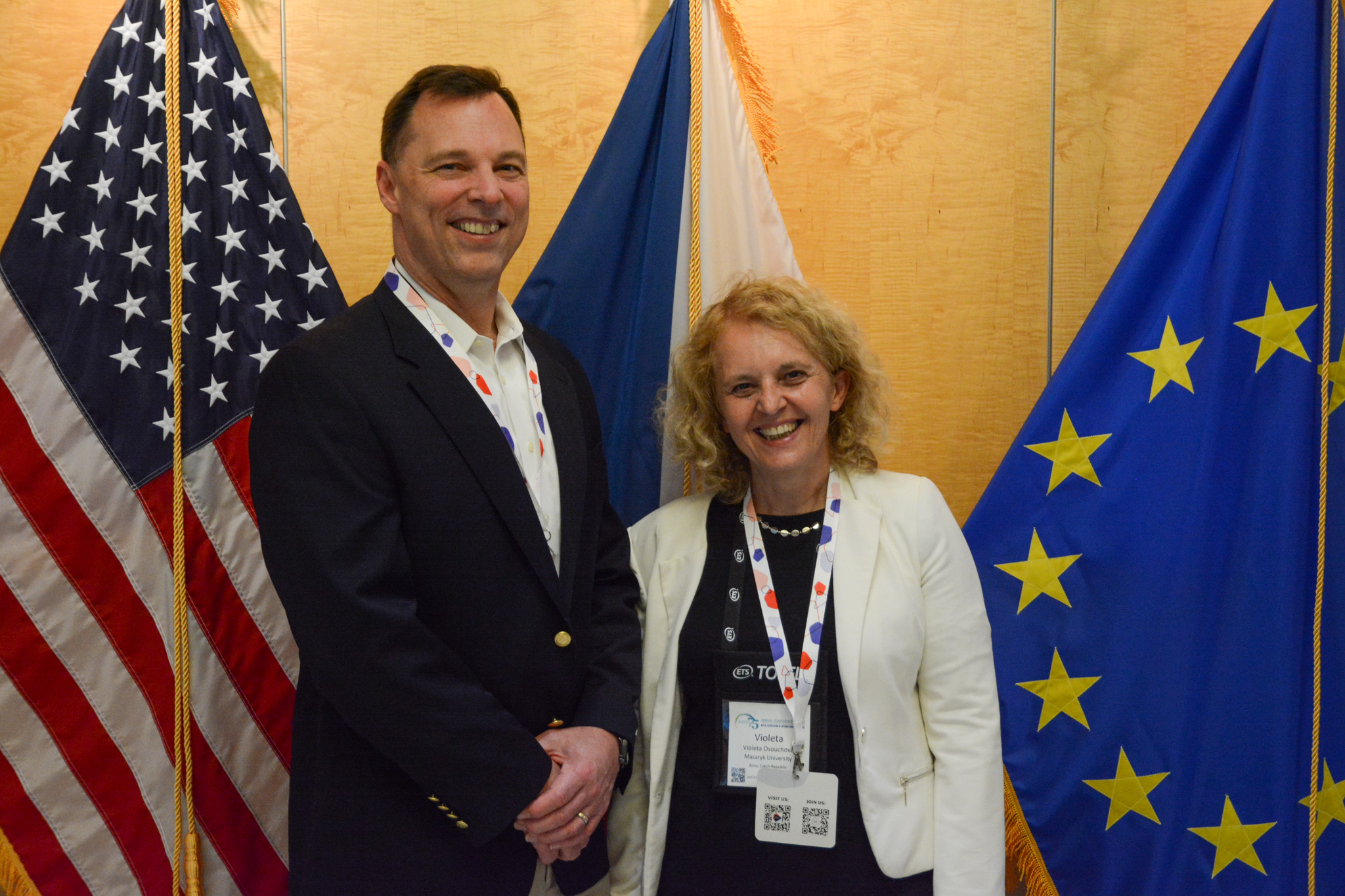 Lieutenant General Dagvin Anderson and Violeta Osouchová, Director of the Centre for International Cooperation at Masaryk University. Foto: DZS
How did you get from Michigan to Masaryk University in Brno? And why did you go there?
I am an Air Force officer, and at that time, they selected twenty officers to get the opportunity to study abroad. It was an offer from the Olmsted Scholar Program. They asked me if I would be interested in studying in Central Europe. There were various options to choose from, but it was Czechia that caught my eye. I didn't want to live in the capital because I wanted to understand more what the local people were like, to get to know the culture. I didn't want to live in a cosmopolitan international city like Prague. And so, without ever having been there before, I chose Brno. 
Why did you find Czechia interesting? Have you ever visited it before?
No, I had never been there before, I was looking for information about Czechia in the library. It was at the time when NATO was expanding, and so Czechia, Slovakia, Poland and Hungary were interested in joining, so that was of interest… and just the history of Central Europe was fascinating. Austro-Hungarian empire previously was a central part of a lot of European history, and I enjoy history and thought that was an interesting place to live. Plus, Vienna is a short drive from there, too. So that's how I ended up there.
You came to Brno in 2000. What was your first impression then?
It doesn't seem like it at all, but it really is over 20 years ago. It was a really interesting time to be in Czechia and to be in Brno. When we first showed up, Prague was beautiful, all renovated, with colourful facades. It was like out of someone's dream. Especially the Old Town and Lesser Town. And then we went to Brno. It was very different, hadn't been redone yet. It was still very pretty but things have not been restored yet. So it was a very different feel. We were a bit surprised at the beginning, but then we met some people and that was really key.
One experience for all - our search for housing. I have the feeling that at that time there weren't many places to rent in Brno, we couldn't find anything. Until suddenly, I was on a tram at the station, and someone called me. A woman's voice on the other end just asked me, are you the Americans looking for an apartment? I was like, who is this? Just this random call. And she said, well, you need to come by my office. I think I've got an apartment. Long story short, she was an attorney in town whose best friend got married and moved to Italy. Her parents had an apartment on the top floor of the house where they lived, and she took us to them. We entered, got introduced and we loved it. It was a beautiful old house. So we ended up moving in there and getting to know our landlords who became our window or our door into Czechia. She was the one who showed us Moravia and Brno as a beautiful place and introduced us to other people.
Did you visit Brno, after you had finished your studies?
I went back twice. I was back in 2007, it was just a brief visit for a couple of days. And then in 2018, when we were stationed in Germany, it was the first time I took my family, my two daughters, back to Czechia. We spent two weeks there and it was wonderful.
How did your daughters like Czechia?
They loved it. My older daughter is already thinking about going to Masaryk University. She's going to try because she loved Brno. But it was a completely different city than when we were there, completely renovated, restored. The energy was unbelievable.
When I first came to Brno, I arrived, I think, on a Saturday evening. I remember we went into town, and everything was closed. There was nothing there. All the shutters were down. The next day, Sunday, and there was nobody around. The place was just silent. I thought, this is going to be different. And then Monday, we get up and we go out and there are people everywhere. Zelený trh, there is a market there, crowded with people, there's all these vendors, there's people everywhere. All the stores are open. What happened? And so it took us a while to learn. But when we went back with my family, 18 years later, there was suddenly this incredible energy in Brno, all these shops and cafes and all these people on the street and just a lot of life. It was really exciting. My daughters thought this is fabulous. And it was. It was great. The city has changed incredibly. When I lived there, I think I met five people who spoke enough English to have a conversation with, and so we had to speak a lot of Czech. It was really difficult at the time but it was good. When we went back, it was almost hard to speak Czech because everyone was speaking English back.  It was really nice to go back and see how much it changed, how much energy was there, and it was just exciting to be back. We really enjoyed. So my daughters love it. They like Czechia, and think Moravia is beautiful.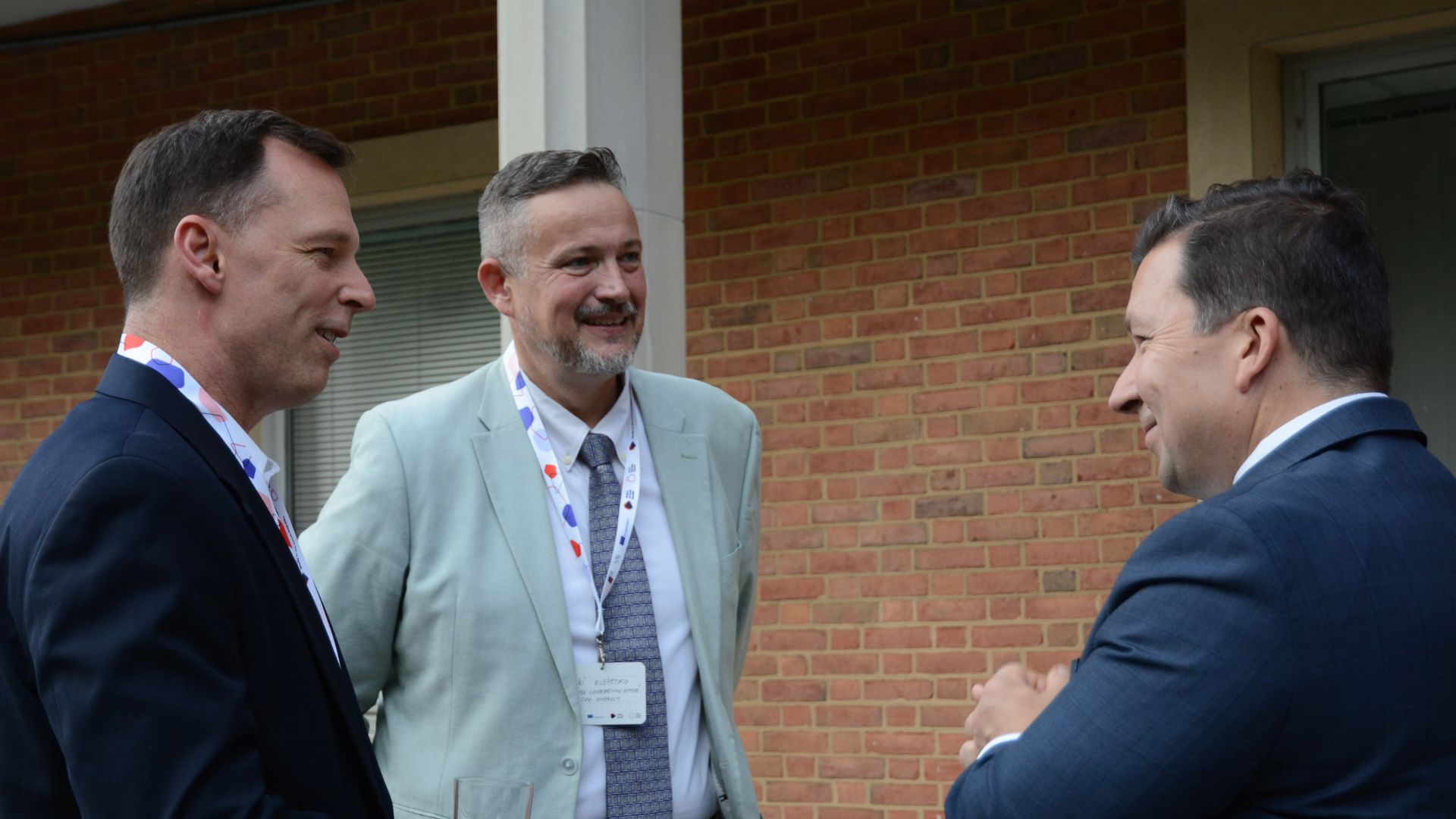 Dagvin Anderson, Jiří Klepetko, Defense Cooperation Attaché and Miloslav Stašek, Ambassador of the Czech Republic in Washington, D.C.
Is there anything you have learned from living in Czechia?
It was interesting, when I was there, people used to always ask why. Why did you come to Czechia? We're a small country, no one speaks Czech. Why do you speak Czech? But the best part of it was going to another country, another culture, being immersed in it, and being able to see the world in a different way. To be able to speak the language and have a window into that culture. That is understanding you can't get if you just travel. It is really unique, and I value that. It really changed how I looked at the world.
I think it was probably the thing I learned more than anything in my studies – it was how to look at the world. It gave me an interesting perspective on what the United States looks like from another country's point of view. I learned a certain humility and respect. As an American. As a person.
The other thing is that we were there in 2001 when the 9/11 terrorist attack occurred. And that was a really powerful experience. There was a statue of Masaryk in front of the rector's office at Masaryk University. I used to walk by it every day. On the 12th of September, I went to school and I kind of didn't know what to expect. I was heading to the statue and suddenly I see - the entire square in front was covered with flowers. And Masaryk had a banner on his chest that said, I think, we are together with America for democracy. It was incredibly moving. I was blown. I didn't expect it. And everywhere we went for the next several weeks, in all the squares, in the streets, there were flowers everywhere. I was moved by what America means to other people, to other countries, and the fact that that actually meant something to people outside America was pretty amazing. People were concerned, they asked how we were doing and wanted to know what we thought. It was interesting to be abroad at that time, and I learned a lot as a person because of it.
Finally, I would like to ask you what was it like for you today to meet people from Masaryk University and other alumni who studied in Czechia?
It is wonderful. I loved it. This is the first time I've been invited back for any event like this. I guess this is the first alumni event that you've done in the United States, is that right? So that's pretty neat. I didn't realise I should have been in contact when I lived in Germany for two years. I didn't realise that you did these events. So I'm really glad you contacted me now and sent me an invitation. It was great to come back, to reminisce, to be able to talk to all those people from Czechia, and to meet Violeta from Masaryk University. Thank you so much for the opportunity. I appreciate that.

Author, photography: Radka Vavroušková