Describing oneself is never the easiest task, but narrowly put, I'm a proactive, creative, passionate, upcoming Finance professional and aspiring entrepreneur with a zest for life and a passion for disseminating information and sharing experiences because I believe in the ability of one person to use their voice to spark positive change in the world.
Social media gives me the perfect platform to blend my creativity and passion and has given me experience with Canva and video recording and editing using iMovie. I am currently working on some projects like my own YouTube c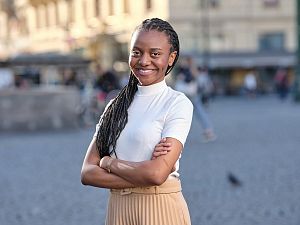 hannel.
I find the joy in all my experiences, including my studies and grab every opportunity to develop myself and the person next to me. Thanks to being a go-getter, I was awarded the Czech Government scholarship in 2017, which I still hold, and have been able to assist a friend from my home country to successfully apply for the scholarship. I have also been honoured with an academic based grant from my current University for the previous academic year. Taking multiple short courses on the Educational site Coursera and practising the knowledge there gained has helped me boost my skills in various areas such as my all-round social skills, accounting and photography. In my free time, I can be found getting active outdoors running or indoors playing badminton, writing, reading, or finding new ways to meet
new people. I've volunteered at an all Czech health retreat in Luhačovice as I speak Czech, with
AISEC for a few months and I'm also a member of the ESN buddy system at my University which allows me to meet exchange students from all around the world every semester, which I absolutely enjoy!
I also work part-time as a teacher of English at Edoo, which I believe adds value to my community. I look forward to bringing my very best contribution to the team of student Media Ambassadors in the Czech Republic.
Mbamu comes from Zambia and currently, she is studying a bachelor programme Financial management at the University of Hradec Kralove.