Ever since I was 15, my dream was to study abroad, travel, and have the opportunity to know and learn more about other cultures than mine.
It was hard to cho
ose the right option among all of the university programs around Europe, (even in the world) and the Czech Republic was the best option for me, safe, excellent location, affordable tuition fees compared to other places, excellent academic level, job opportunities, unique courses, technically everything I was searching for.
Taking the decision to leave Mexico and come alone, to start a new life from zero, was not easy AT ALL and has been so challenging but the goals are bigger than the obstacles and I know this experience is worth it, I am learning a lot from it.

Before I was attending the faculty of Economics at the National Autonomous University of Mexico, but when I moved to the Czech Republic I just switched to an online system and now I am studying both bachelors. The reason why I do this is because here I found the most perfect and the best compliment for me and my other bachelor, the program of International Development Studies. And what a better place than in this city (Brno) full of multicultural interactions and even with academic exchange opportunities?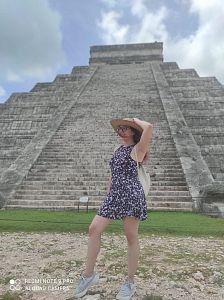 My dream of studying abroad came true, but I am still looking forward to getting even more from it! I would love to be part of an international team in an NGO working with people in vulnerable situations.
Here there are so many facilities for finding the job of your dreams or even if you want to create your own business.
Believe me, for you there are so many opportunities too, just know that perseverance and self-confidence are the key!