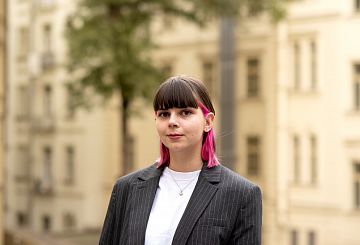 Motto: Work hard dream big
Country of origin: Ukraine
Situation: Student (currently studying in Czechia)
Higher education institution: Charles University
Field of study: Languages
Level of study: Bachelor
What made you decide to study in Czechia?
It was a perfect place to begin my journey. Czechia is an interesting European country that has a similar culture to Ukraine (my native country).
Did your studies meet your expectations? How did you find the study programme, instructors, university facilities? Were there any differences from studying in your country?
It is not easy to be an international student here (as everywhere, I think). But I'm doing my best in these conditions. I searched on official university websites and texted students with the same experience. There are a lot of differences; I wouldn't be able to write all of them. :)
What was the biggest surprise with regard to studying or living in Czechia?
Studying in the Czech language is a challenge. After the language course, I thought I was prepared.
What was your most memorable experience or what did you enjoy most as a student in Czechia?
Independence.
How do you think your time in Czechia has helped your studies and/or your career?
I'm figuring out how to solve problems that sometimes happen. Meeting new people with the same interests.
Do you have any advice for students thinking about studying in Czechia?
You should not have pink glasses on. Every country has its own advantages and disadvantages. It's not easy, but it's totally worth it:)