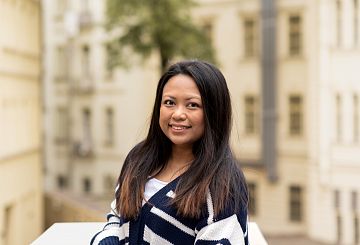 Motto: It always seems impossible until it is done.
Country of origin: Philippines
Situation: Student (currently studying in Czechia)
Higher education institution: Masaryk University
Field of study: International Relations
Level of study: Master
What made you decide to study in Czechia?
The availability of the degree program I want to study in university, a chance to study our degree in English, affordable tuition fees and cost of living in the city compared to other cities in Europe, diverse international student background, relatively safe environment, and the rich history and culture of the Czech Republic, among many others.
Did your studies meet your expectations? How did you find the study programme, instructors, university facilities? Were there any differences from studying in your country?
Yes, and even beyond. I love the Smart classrooms most of all and the facilities. When I was studying for my Bachelor's at my home university, we only had the projector for a few classes.
What was the biggest surprise with regard to studying or living in Czechia?
The cold weather was the biggest adjustment for me as I didn't have a lot of warm clothes when I came in late winter/early spring. Public transportation is a little more expensive than in my country, but I liked the ease of travelling around the city and beyond that.
What was your most memorable experience or what did you enjoy most as a student in Czechia?
Events organized by the Erasmus student network of my university.
How do you think your time in Czechia has helped your studies and/or your career?
I am learning more in my field of study, and studying in Czechia has also opened new doors and connections for me...such as being a STUDY IN ambassador! :D
Do you have any advice for students thinking about studying in Czechia?
Start researching about your field, possible schools and Czech student life now!