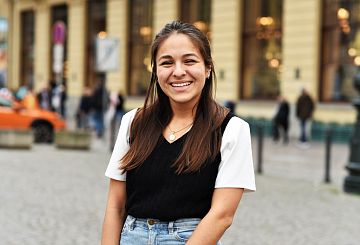 Motto: Say YES to new adventures :)
Country of origin: Mexico
Situation: Student (currently studying in Czechia)
Higher education institution: Masaryk University
Field of study: International Relations and European Politics
Level of study: Bachelor
What made you decide to study in Czechia?
I was studying International Relations' bachelor back in my home country, but I wanted to study where I could feel the "international" environment. After looking for many options, I found an interesting study program in the beautiful city of Brno.
Did your studies meet your expectations? How did you find the study programme, instructors, university facilities? Were there any differences from studying in your country?
Yes, studying here met my expectations as I am learning from experts in different areas, such as the European Union and the environment. I like that the university gives you the opportunity and support to do extracurricular activities such as internships, student groups, and study abroad options. All of the MUNI faculties are beautiful, and I find it helpful that they are around the city, so you can always visit any of them to study in the library. My favourite part is the international environment, which I missed when studying in my home country. All of my friends and colleagues are from different parts of the world, giving additional points of view in classes and an enjoyable moment with my friends.
What was the biggest surprise with regard to studying or living in Czechia?
The biggest surprise I got from studying in Czechia was getting to know people from around the world. My favourite part is sharing our cultures in everyday activities such as eating and learning how to cook different cuisines, celebrating my friend's national holidays in different ways than mine, and even getting to know their life hacks to clean the house or get rid of the flu.
What was your most memorable experience or what did you enjoy most as a student in Czechia?
The part that I enjoy the most about studying here is that I am trying new things that I have never experienced before in my country, such as seeing the snow during winter and skiing for the first time. I travel around the country during summer and go for hikes during fall.
How do you think your time in Czechia has helped your studies and/or your career?
Studying here has helped me a lot, both in the personally area and the academic and professional. I studied English back in my home country but never used it in my daily activities; now, I have improved my language skills a lot.
Do you have any advice for students thinking about studying in Czechia?
If you are considering coming to study in Czechia, my advice is: do it! It will have uncountable pleasant experiences and benefits you cannot imagine now. Still, after some months of living here, you will realize how much you have improved personally and professionally.