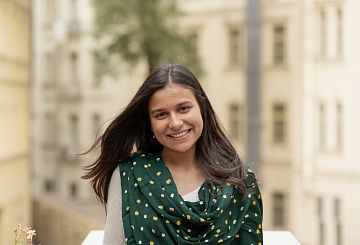 Motto: To infinity and beyond!
Country of origin: India
Situation: Student (currently studying in Czechia)
Higher education institution: University of South Bohemia in České Budějovice
Field of study: Ecology
Level of study: Master
What made you decide to study in Czechia?
The study program at the University of South Bohemia I have been accepted into allows me to explore my niche on an advanced level. The environment and affordability of the place make Czechia an excellent place for me as a student. Additionally, I look forward to exploring the live classrooms, aka the majestic natural habitats of Czechia. As an international student, I am very excited to join the USB ecology team.
Did your studies meet your expectations? How did you find the study programme, instructors, university facilities? Were there any differences from studying in your country?
I have yet to find that out.
What was the biggest surprise with regard to studying or living in Czechia?
I look forward to being surprised!
What was your most memorable experience or what did you enjoy most as a student in Czechia?
Well, for starters, the ambassador program looks great to me! And so I believe the rest is going to be fun, too.
How do you think your time in Czechia has helped your studies and/or your career?
I can't wait to explore that aspect of my time in Czechia.
Do you have any advice for students thinking about studying in Czechia?
It's too soon to make conclusions as I have just arrived.