Are you a student studying in Prague & cannot focus at home? Well, this perfectly describes me. Throughout the past two years, I researched, read, took notes, completed assignments, & wrote papers outside the comfort of my own home — instead, I enjoy studying in cafes & libraries! If you have not seen my first blog on Prague's Best Study Cafes, I highly encourage you to do so. As part two of this series, I will recommend four additional cafes & introduce three library spots to get your study on! I will rank these from top to bottom, so stay tuned until the end.
Part 1: Cafes
Cafe 11
Narodni trida by tram or metro, MON-FRI (9:00-19:00) & SAT-SUN (10:00-19:00)
A small cafe located in the Prague City Hall, Cafe 11 is a pastel-coloured, cozy, & calming mini cafe with a brunch menu selection. This is not a daily spot for me, but a great pick if you happen to be in the centre & are trying to figure out where to sit down & get some work done.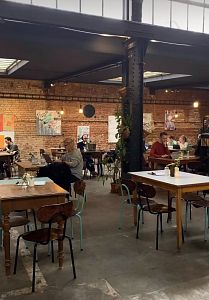 Minimum Waste
Dlouha trida or Jindrirska by tram, Namesti Republic by metro, MON-FRI (7:30-19:00) & SAT-SUN (9:30/10-18:00/14:00)
If you like people-watching, open space, & modern architecture, Minimum Waste is a must-see! Again, like Cafe 11, it is located in the city centre, & serves delicious caffeinated drinks to stimulate your brain. The staff is kind & the place has ambient music, so check this place out.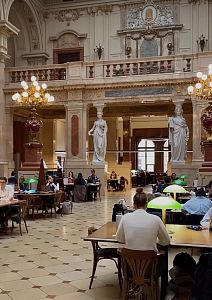 Kasarna Karlin (Kavarna Bazen)
Masarykovo nadrazi or Viktoria Zizkov by tram, Florenc by metro, MON-FRI (13:00-23:30) & SAT-SUN (10:00-23:30)
This is one of the most unique spots in Prague, let alone a stellar study space. What is special about this cafe is that it is a great study & social spot at once. It has free Wifi in the cafe but is surrounded by a former barracks, repressed & re-opened to the public in 2017, including a courtyard with a gallery, open-air cinema, playground, sauna, beach volleyball field, theatre scene, & music club!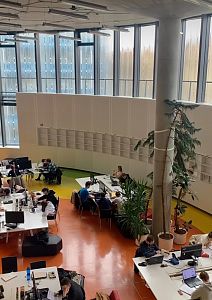 VNITROBLOCK
Delnicka by tram, MON-SUN (9:00-22:00)
Last but certainly not least is this gem located in Prague's outskirts! Do not let the location demotivate you because this is undoubtedly one of the most unique & aesthetic study cafes you will ever encounter. It has a cool, graphic, yet natural atmosphere, with lots of greenery yet organized spaces to study for long hours. I recommend their "dirty chai latte," which adds espresso to the delicious milky & herby chai.
Part 2: Libraries
National Library of Technology (NTK)
Dejvicka by tram or metro, MON-FRI (8:00-22:00) & SAT-SUN (10:00-22:00)
For starters, we have a classic for mainly STEM students, NTK! It has 1322 spots to study & 562 to relax, with a nearby place for coffee from Cafe Prostoru_. It is a great place to reserve after-hour reading rooms to pull those exam-season all-nighters with just a yearly membership of 100 CZK! Remember that students get a 50% discount (don't forget your ISIC card). However, they do require cash only.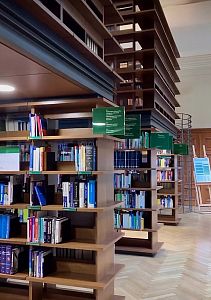 National Library of Czech Republic (Klementinum)
Karlovy lazne by tram, MON-FRI (9:00-19:00), SAT-SUN (CLOSED)
If you prefer dark academia, Klementinum will rock your boat over NTK. It is peaceful, situated in the city centre, & promises a focused study session. Just make sure to check on their website for the rooms with zones that suit you. Also, 15-25-year-olds pay 100 CZK to register for the study, while 26-69-year-olds pay 150 CZK.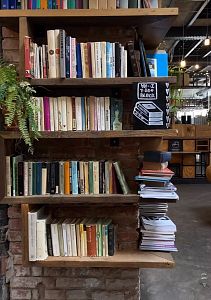 Academy of Sciences Library
Narodni divadlo by tram, MON-FRI (9:00-19:00), SAT-SUN (CLOSED)
Finally, the ultimate library of Prague is located at the Academy of Sciences! I was actually originally introduced to this place by my thesis academic advisor, who informed me that he usually goes there to research, grade assignments, & get his work done. Upon entering, I was truly mesmerized by the enchanting & royal interior, with complementing shades of beige & green adorning the ancient walls. It is the quietest of the three libraries & offers personal chargers & lights.