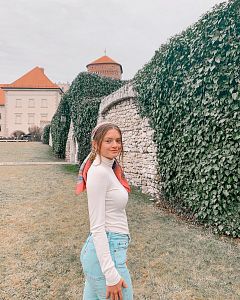 My name is Olivia, I'm 20 years old, and I'm from Maine. I was born in Virginia, moved to Maryland when I turned 1, and when I was seven my parents decided to relocate back to their hometown in beautiful coastal Maine. I'm the oldest of four so from a young age I've had a lot of responsibility. With three little kids watching my every move I placed pressure on myself to be a strong and resilient role model. My family has always been very close and my siblings and I were raised to be genuine, kind, hardworking humans. I was raised to focus on the positive and to lift others up while striving towards my own personal excellence. I was born an empath but it was my upbringing that led me to want to help others. That is why I chose to major in psychology and human rights in college. With that said, my small town in Maine was safe and sheltered. My parents recognized that and gave me the opportunity to travel and push myself out of my comfort zone, to learn about the lives of other people. I now have a strong desire to learn about other parts of the world while helping others.
My desire to learn about the rest of the world was a large factor influencing my decision to spend my semester studying in Prague. I have now been here for about one month and am already very much aware that these are some of the best days of my life. There are endless sights to see and things to experience as well as so many different kinds of people to meet. Choosing to study abroad has been the smartest decision I have ever made and I want to help show people why! 
Olivia from the USA is an exchange student of psychology at Charles University.