Unquestionably, June to August is the most stressful for Czech university students. As lectures wind down between late May & early June, this period is known as the "exam season"—a time when final tests, seminal papers, & other high-stakes projects demand our attention & determine our course grades. I find solace in studying amidst a vibrant community fueled by the refreshing aroma of caffeine. In other words, I thrive by exploring Prague's Study Cafes, where I can efficiently conquer my tasks. However, some seek a serene & natural setting in the great outdoors.
Fortunately for Czech university students, Prague is a city teeming with nature, boasting parks tailored for those seeking relaxation and focus. In this blog, I will recommend the four best nature gateways for university students: 2 that are more integrated into the city & 2 that are more secluded & offer stellar views.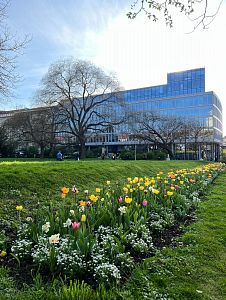 No matter the location of your study in Prague, going on a gateway to the city's central areas is a great idea! For that reason, allow me to recommend the enchanting Karlovo Namesti Park. Not only is it nestled amidst pastel architecture, but it is also just a stone's throw away from trams, coffee shops, food chains, & grocery stores. Within this haven of greenery, you'll find sprawling grassy fields perfect for a tranquil picnic or comfortable benches where you can unwind.
If you think the Karlovo Namesti Park may be too noisy, as its location makes it an island amidst the streets, imagine studying in an outdoor oasis that seamlessly connects to a bustling mall - a place where cafes, a cafeteria, & more await your exploration. Welcome to OC Novy Smichov Park! Ascend to the second floor, pass the bathroom stalls, & proceed straight ahead until you discover a glass door. Step through & continue across the bridge to find yourself in this peaceful place. While this park may lack additional amenities, it compensates with an abundance of inviting benches & mesmerizing lighting that illuminates the night. Remember to depart before 11 PM, as safety measures dictate its closure. Consider it a soft deadline for your studies!
Are you craving a more extensive park with breathtaking vistas of the river & the city? Look no further than Letna at the Čechuv Most tram station. After going up a few steps, you will discover an industrial park brimming with amenities: A skateboarding arena, a bar serving aromatic coffee & delectable finger foods, & playgrounds. The best part? This elevated park offers a stunning view of the sunset, providing a fitting reward once your studying is complete.
Vyšehrad unquestionably reigns as the supreme gateway to nature for students residing near the metro C line. This local gem exudes an air of calmness, offering a taste of traditional royalty without the usual crowds. Meander through its serene paths & find respite on one of the benches overlooking the vineyards that gracefully adorn the banks of the Vltava River. When it's time to work, settle down at one of the cosy mini restaurants & immerse yourself in a studying environment far from the bustling city centre. Undoubtedly, this is the epitome of serenity.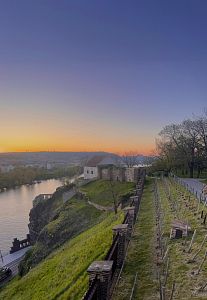 That concludes my suggestions for now! I wish you the best of luck during your exam period, & I hope these nature gateways will inspire you to study in an environment that genuinely ignites your passion.